This post will put my full fashion junkie nerd-ness on display.
I walk through consignment and vintage stores like a museum EXCEPT I break all the museum rules. I touch each piece, I look at the label, I feel the buttons, I examine the technique of the seams and I rub the fabric between my fingers. (make sure your hands are clean first though!) I straight up study and soak each garment in like Inspector Gadget. We are only one paragraph in and I'm already thinking, damn Lyv, YEW IS A WEIRDO. So it's fine if you're thinking the same as well.
Today I'm sharing which stores I love to follow and visit when we travel. I'm also going to take a quick look at what pieces I have found along the way and the reasons I choose to purchase them. When I thrift shop the item doesn't have to be designer, it can just be a garment that sparked an interest in my fashion junkie heart.
A local boutique, The Blake located on Cross Hill Rd introduced me to the Cameron Silver, Decades Tour.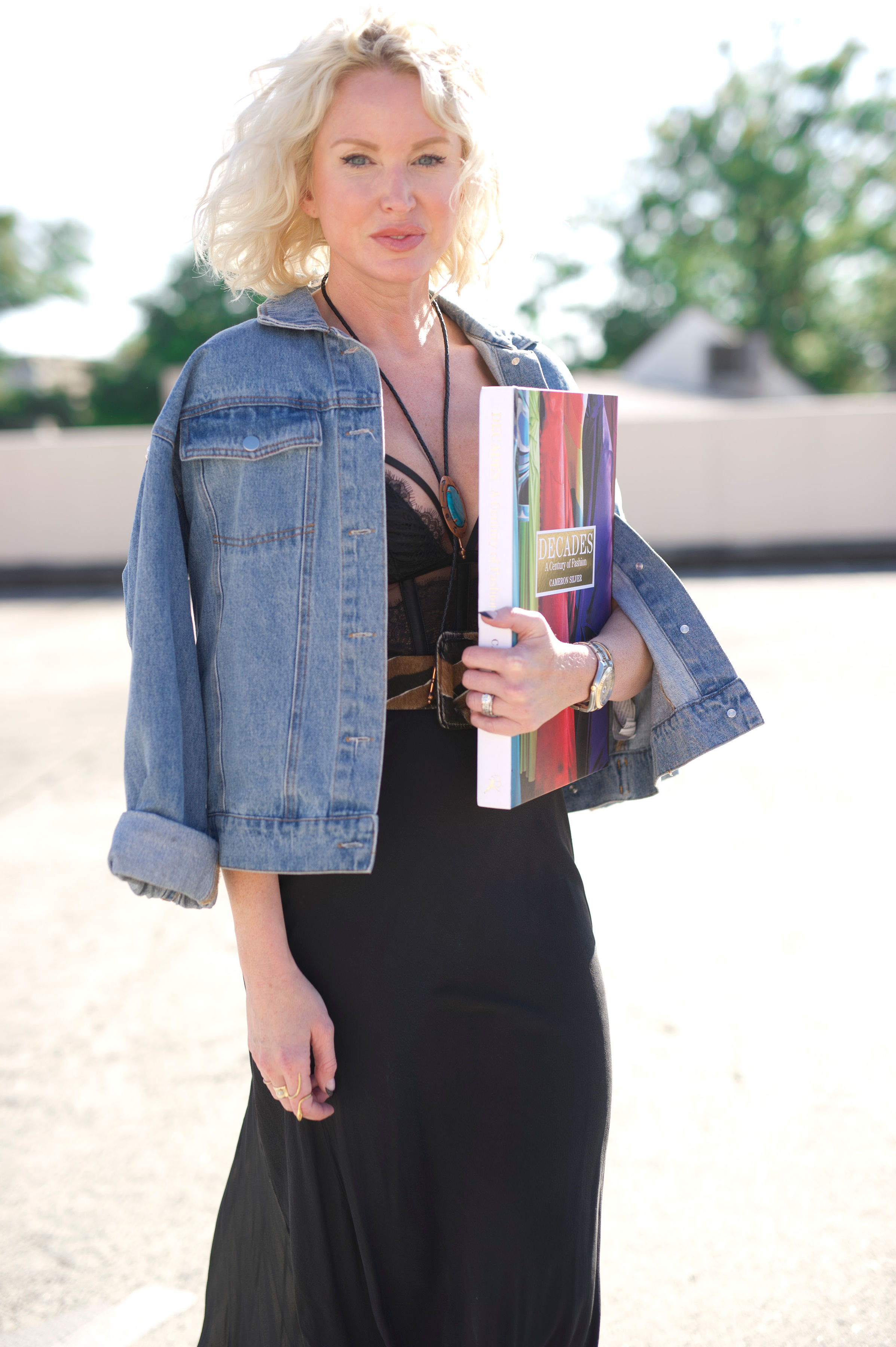 Decades is an iconic boutique in LA specializing in "vintage, neo-vintage and contemporary designers".
The mesmerizing boutique is founded and owned by Cameron Silver, who often takes some fabulous vintage pieces on tour across the country with his best selling book, Decades: A Century of Fashion.
I had the pleasure of meeting Cameron while purchasing his book during a Decades trunk show at The Blake.
I also found a vintage Ann Demeulemeester high waisted skirt that can be whatever form of chic I need it to be!
The length of the skirt was outstanding, which is usually my biggest struggle. I mentioned previously on the Brackish Bowtie post that finding pants or skirts that are meant to be long has been my life long struggle. STRUGGLE CITY over here!! When I do have luck and find a piece that fits just right those items tend to be investment price points for me. This skirt I think was around $300.
I've been burned too many times by going for the lewk for less, when it should've been about the fit. I knew this piece could live in my closet for many fun occasions to come!
My current obsession is the western influence we are seeing so much of in fashion. I used that vibe in my approach to styling this LEWK. I paired a vintage turquoise bolo from Dirty Livin in Nashville, TN. My lace bralette is from Victoria's Secret and a pop of animal print with the mohair animal print belt from Zara.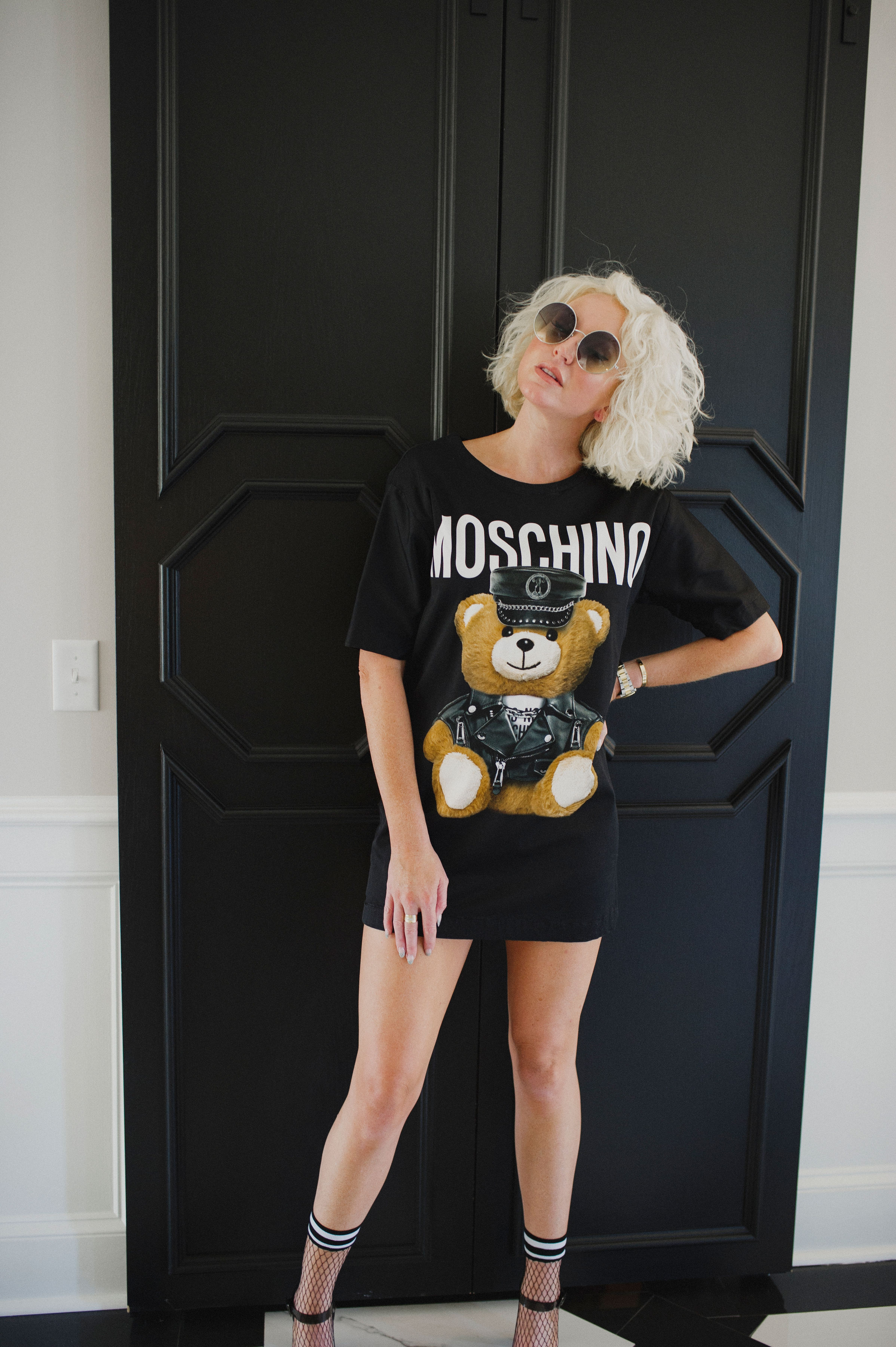 This Moschino t-shirt dress was captured while on a hunt in New York.
Chris found it randomly on a rack of designer pieces at Century 21. He picked up and said, "Lyv this looks weird and right up your alley." And I said, "IT IS! I loved it."
At the time I didn't have any Moschino pieces in my closest. I had always admired how eccentric Moschino garments can be especially under the direction of their creative director Jeremy Scott. There's an excellent Netflix documentary about him and his journey in the fashion industry and within Moschino.
I'm a sucker for a good t-shirt dress especially if it means having a piece of that eccentric Moschino teddy bear logo.
The dress is from Jeremy Scott's AW16 collection and features the Moschino teddy bear icon.
Century 21 is a department store known for having designer pieces at severely discounted prices.
I honestly didn't think I was going to find anything when we were shopping that day. The environment was a bit overwhelming. The store is HUGE and very much like looking for a needle in a haystack however, the haystack is the size of a football field with like 4 floors, ya know?!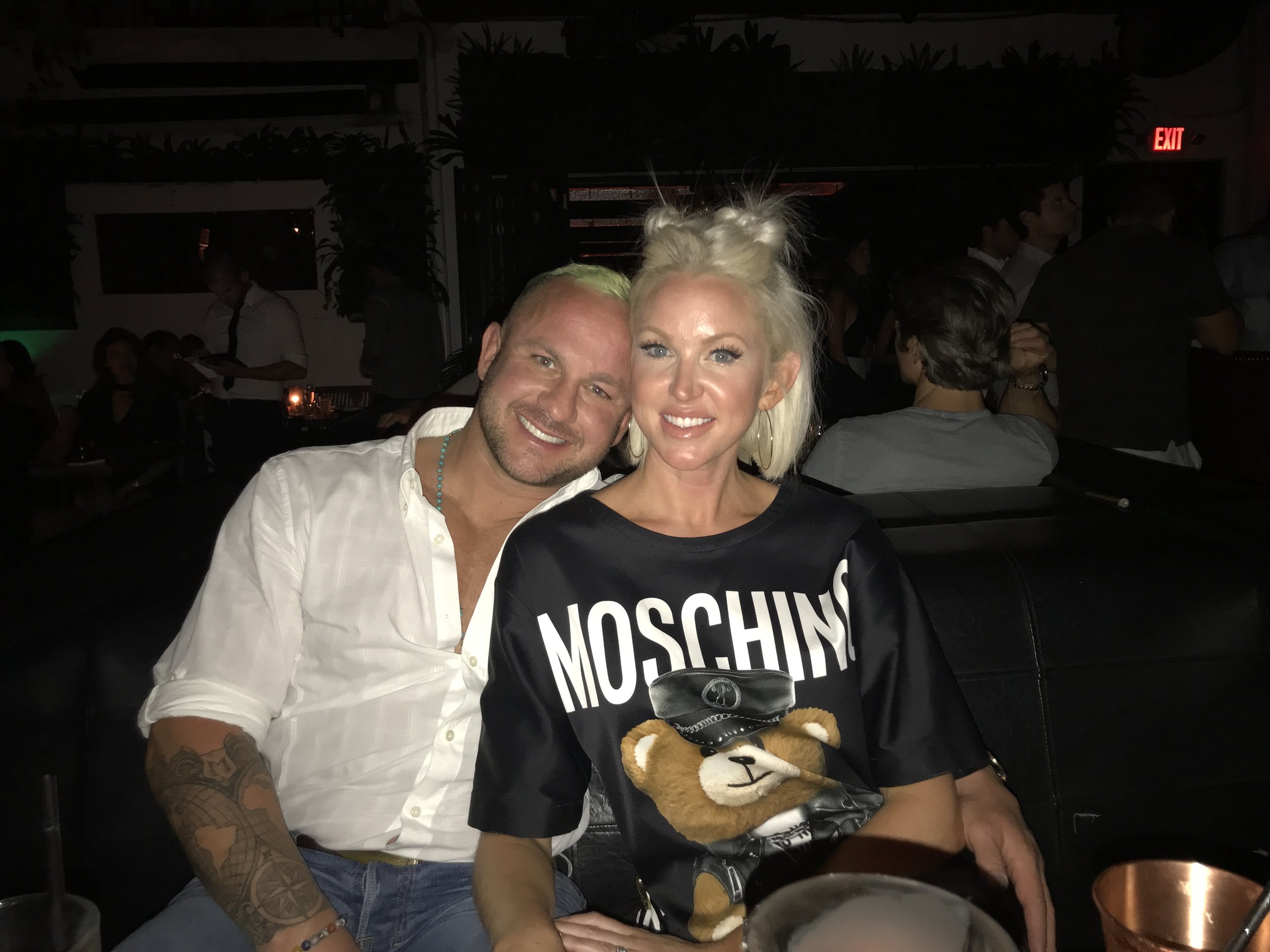 I ended up styling it for a festive dinner in South Beach at Baoli.
I wore my hair in little space buns to carry off the funk of the teddy bear logo. I wore the fish net socks you can see in a shot above with a black strappy sandal.
Chris's hair is still a little lime green from being the Joker a few weeks prior for Halloween. YOLO in South Beach.
I can only imagine how many vintage and consignment stores are in New York, but another one that is sure to be a hit is, What Goes Around Comes Around NYC. I have followed them on Instagram for quite some time and finally got to step foot in the store on our last trip to New York. There were amazing vintage Versace silks that I really had a moment with, however I ended up pulling the trigger on something else later at another store. I could have spent all day in the store examining each piece! The store is a vibrant space FULL of every designer piece through history. The layout flows beautifully and the staff is very well knowledgable on the history of each garment. It's a very welcoming, non-intimidating fashion MECA moment.
Now for a consignment store a little closer to home.
This Michael Hoban North Beach leather dress came from Return Engagement in Aiken, SC.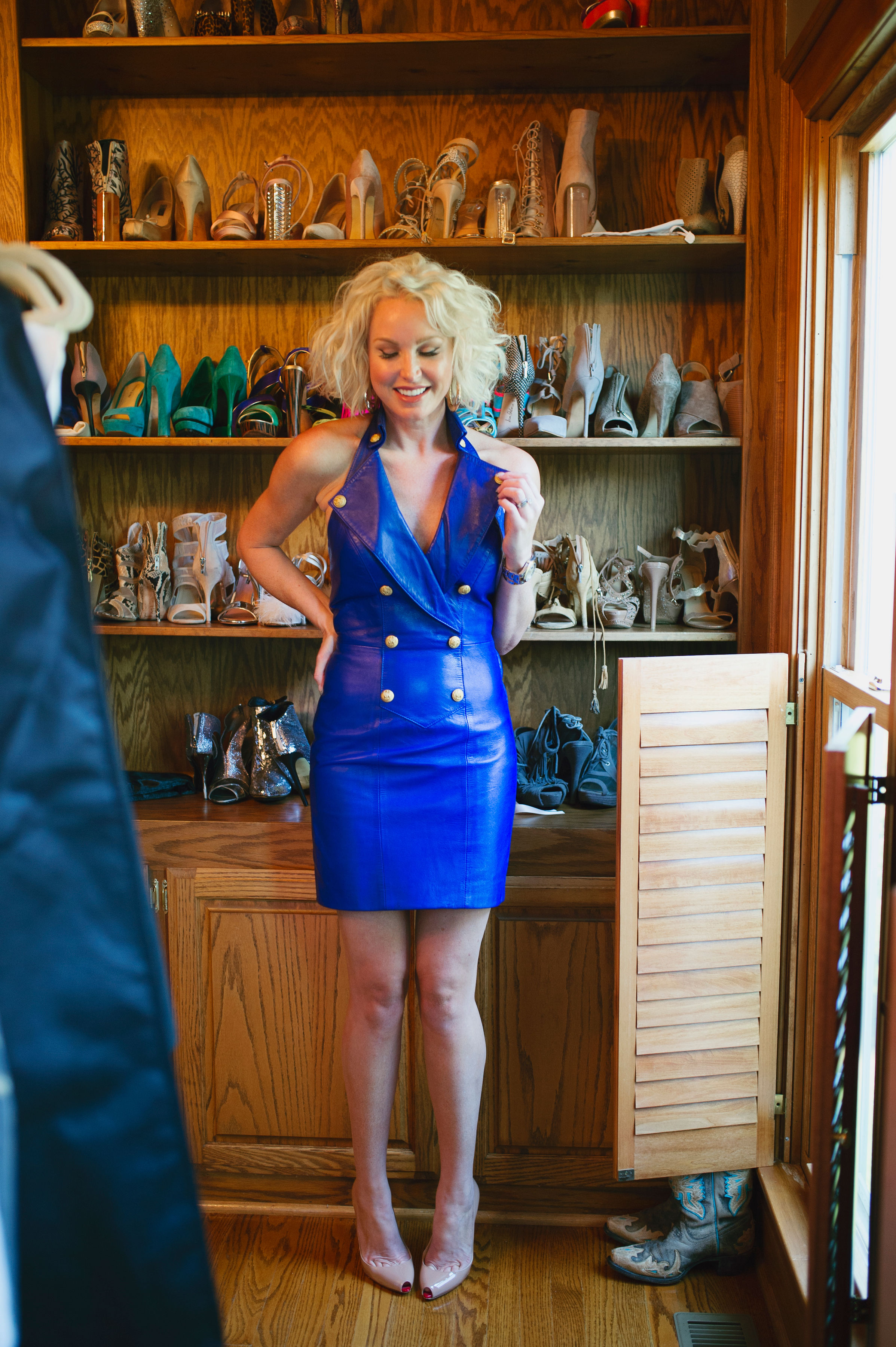 I found this double breasted electric blue leather dress on the sale rack for $11!!!
Return Engagement is located in beautiful downtown Aiken and I always try to make it a point to stop by and take a lap whenever I'm passing through to see my parents.
I did end up replacing the zipper so that added a little to the cost of the dress but to this day, this FIND is an all time favorite!!
Often times when I go into a consignment or vintage store I go with an open mind. It seems the best pieces make their way to me when I'm trying not to look too hard.
My mom was with me the day I found this dress and she goes, "WHERE ARE YOU GOING TO WEAR THIS?!". And honestly I had no clue at the time, but I knew I would save it for something special.
In 2015, Chris and I were at the Miami boat show, we typically go from Thursday to Sunday. That Thursday our flight got delayed so we missed our connecting flight in Atlanta and got to Miami late Thursday afternoon. We got settled and met our friend downstairs for drinks. Chris checked his phone and there had been a fire at the Tidewater plant back in South Carolina. He was unsure of the damage, but the news and media outlets were already catching wind. So he booked a flight back to Columbia to assess the damage and handle any media coverage, which thankfully wasn't much. He flew out of Miami Friday morning at 4 am. The fire started in a trash pile and fortunately caused no major damage and more importantly nobody was hurt. He flew back to meet me Saturday morning in Miami.
So we had 24 hours to really make this trip count! We went to the show, made the rounds, did the research he needed to do and then that night we went to the Versace Mansion and I pulled out the BLUE LEATHER DRESS.
This dinner was insanely beautiful. More than anything I remember in this moment feeling so thankful that our life had not been completely turned upside down by that fire. I remember feeling very fortunate and grateful.
The Versace Mansion has changed a good bit since this dinner. Now they try and stuff as many tables around that pool as possible and for me that just takes away from what the Versace Mansion truly stands for.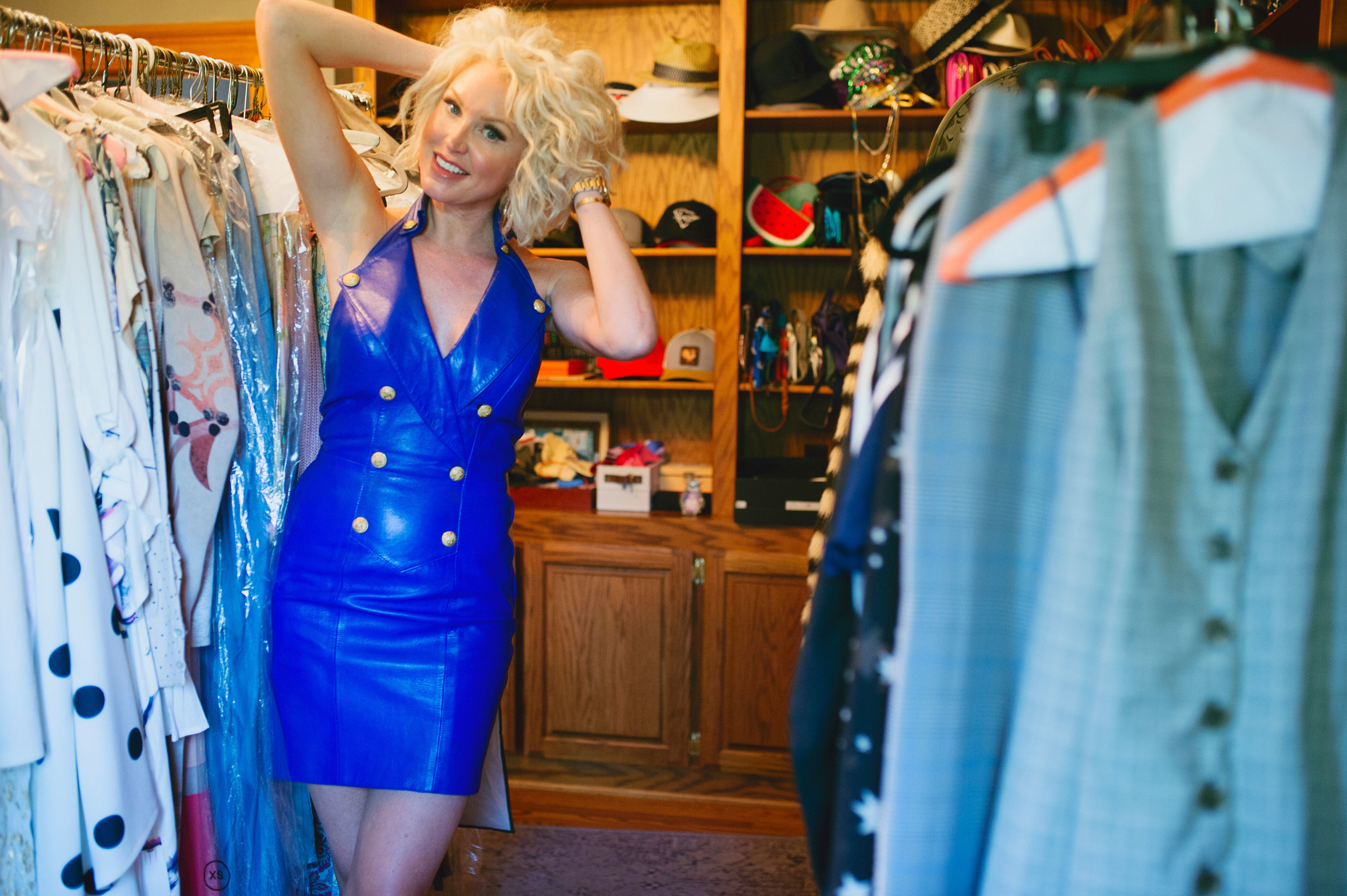 Anytime we pack for Miami I always take this dress.
When I bought it, to me it represented a garment maybe I would've been to nervous to wear a few years ago, too over the top, TEW MUCH!
I'm just not like that anymore. If something makes me feel amazing and maybe it's borderline tacky, I just don't give a shit.
Try it, it actually feels amazing. If you blast Reba, "Fancy" while you get dressed it REALLY sets the tone for what level of confidence you're about to be rocking.
HERE'S YOUR ONE CHANCE FANCY DON'T LET ME DOWN!!!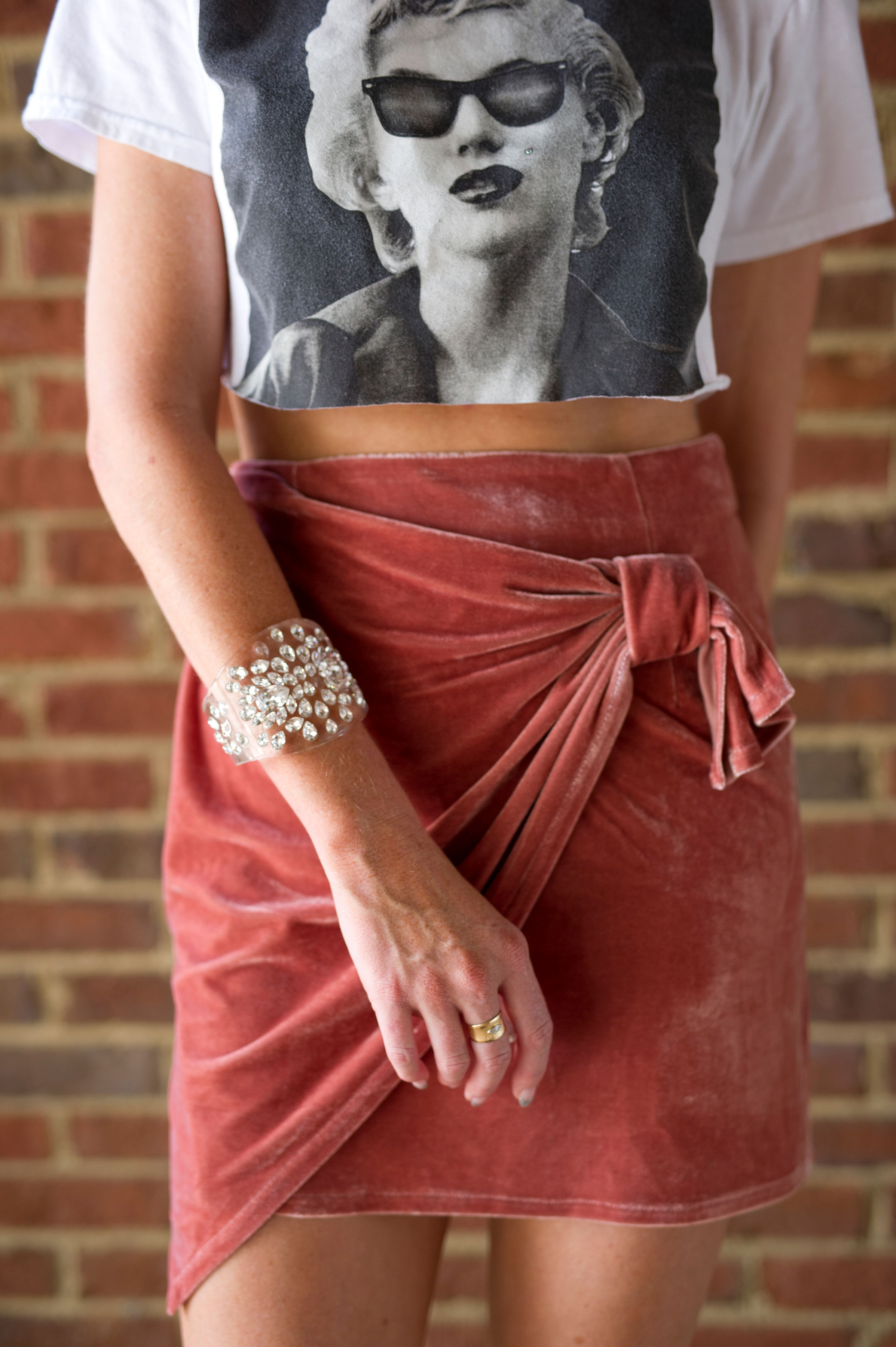 That brings me to this lucite Christian Dior cuff that found me at C. Madeleine's.
Lucite ANYTHING is my JAM!
Lucite, acrylic, whatever you want to call it, to me is a timeless finish. Again, I didn't have a particular item on agenda to hunt down when I walked into C. Madeleine's that day, I was just there to smell the clothes.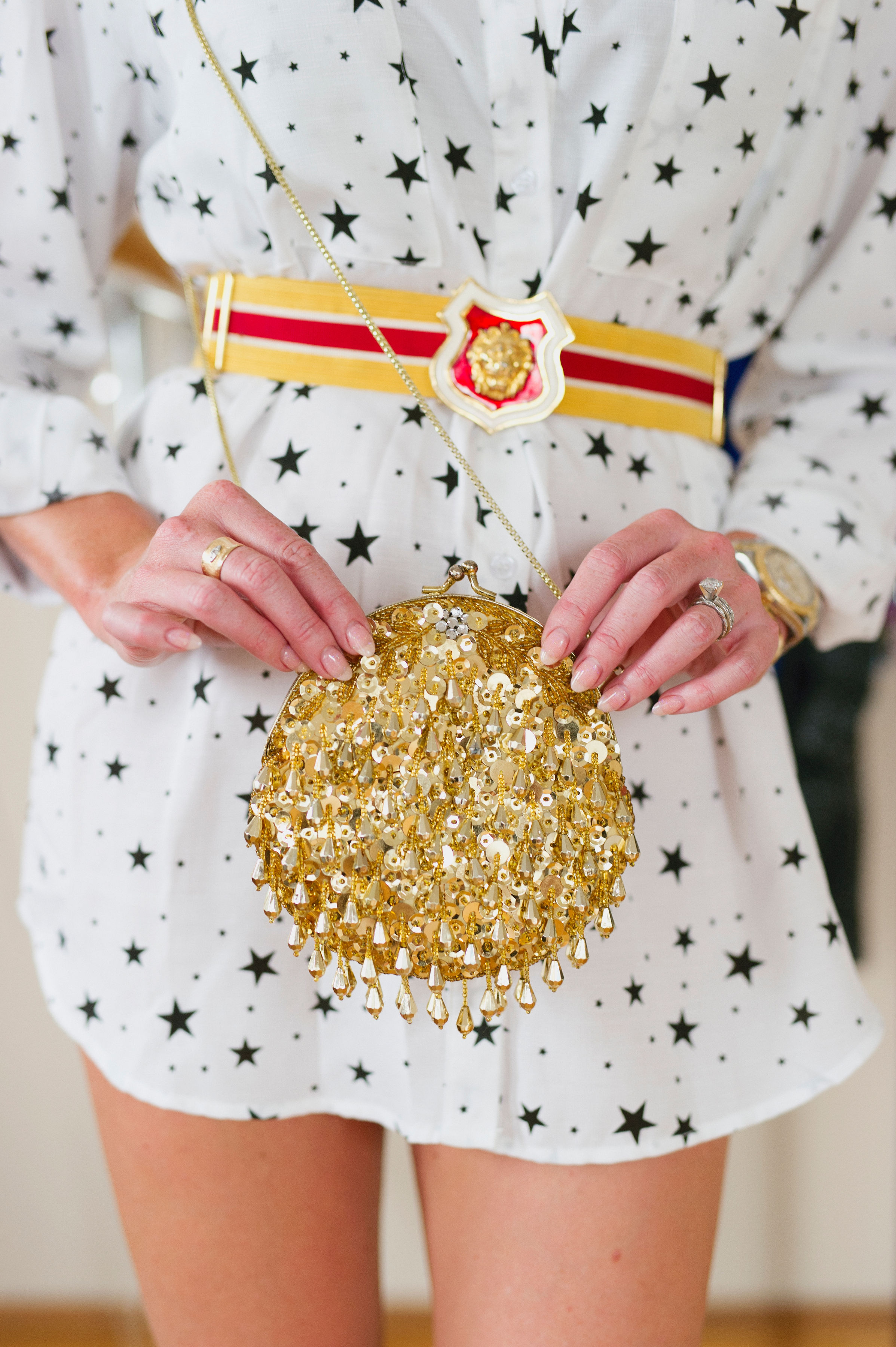 I did a lot of research before I went to C.Madeleine's and knew to expect the unexpected.
Vogue has once described it as "Miami's best kept secret". It was a 10,000 square foot store on Biscayne Boulevard in North Miami that held over 100 years of fashion.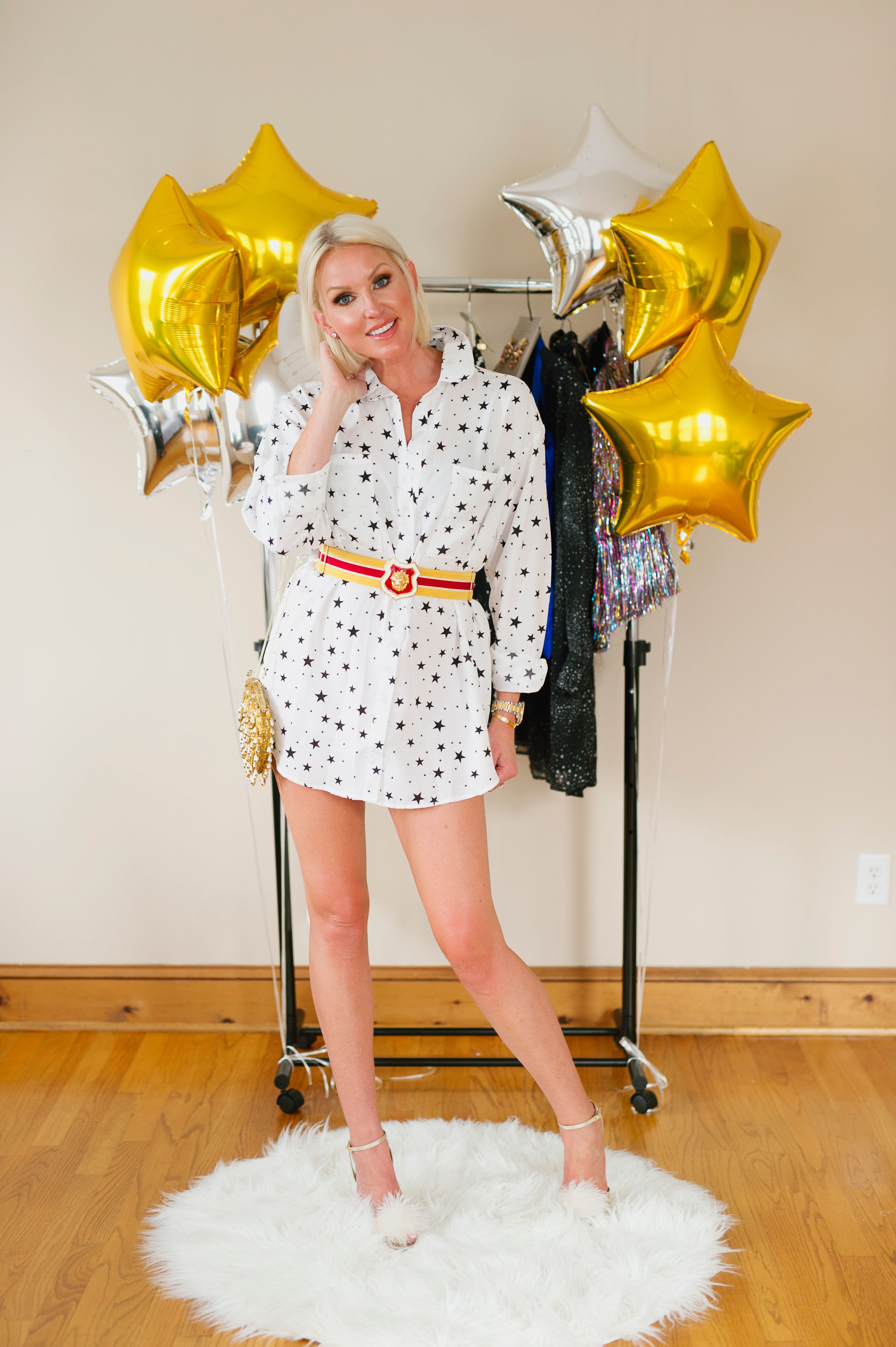 This tiger elastic band belt was another purchase I made that day in addition to the lucite cuff.
But Lyv why are you speaking in past tense?! Well, something happened with the lease and they just up and closed in June of 2018. There was an update about switching to a new location, however I haven't seen any activity about it on social media.
It makes me so sad. This place was like a fashion art history museum. A lot of the clothes were in clear bags to protect the integrity of the fabrics, but you could still pick up the items and study them first hand. I sincerely hope they work out a new location soon.
Another designer consignment store I follow in Miami is, The Consignment Bar. It's going to be more of a small boutique atmosphere walled with designer handbags and shoes. There is some clothing, but primarily their focus seems to be handbags.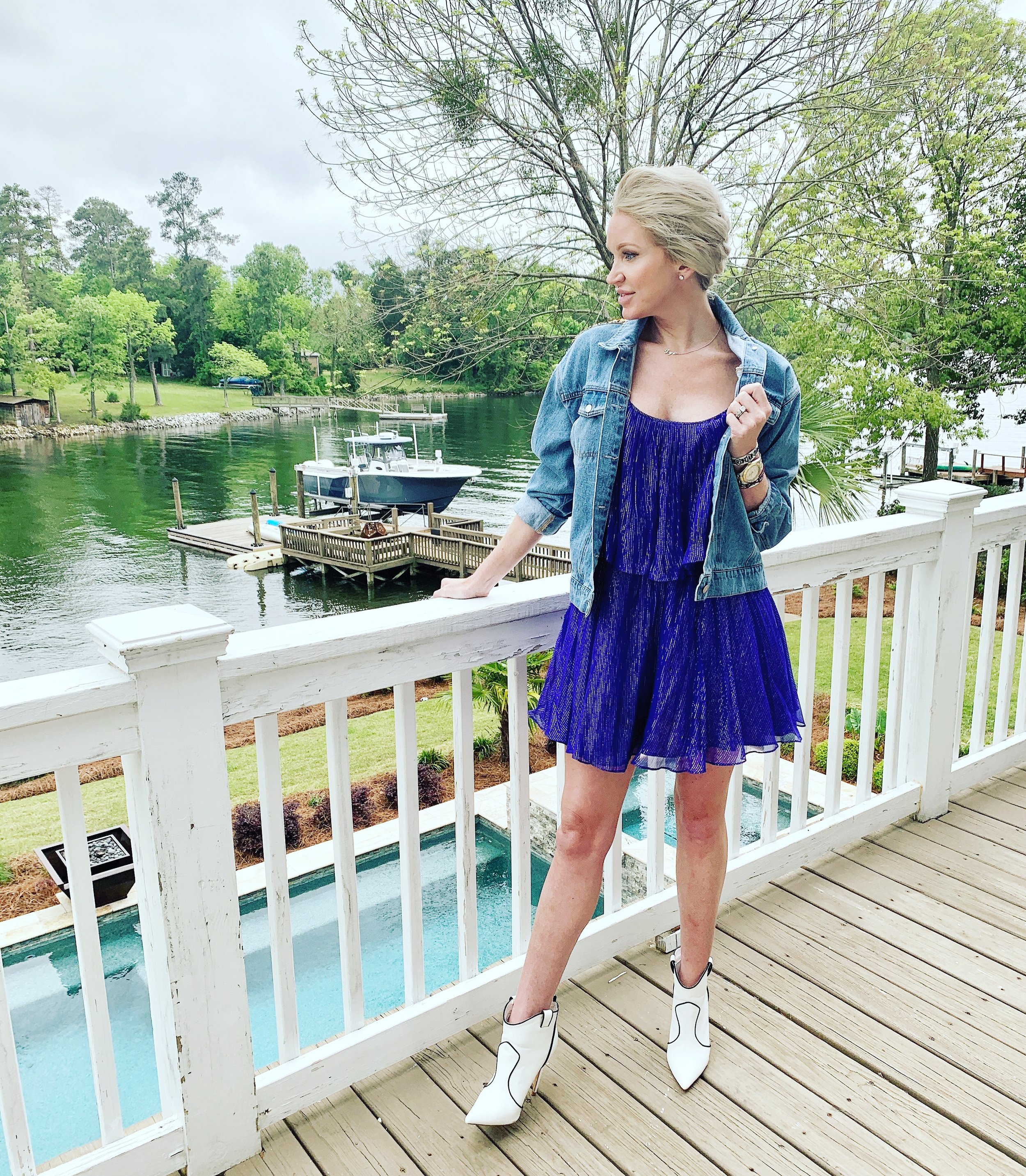 Now let's have a Carrie Bradshaw moment!
My BEST guy friend, which I describe as my sister husband, Brett Kramer, told me his uncle and dear friend of the family had a kickass designer vintage store called Jack Retro.
I began following Jack Retro on Instagram years ago as they prepared for their opening in Dallas. Jack Perez has curated a women's and men's contemporary designer apparel collection for over 15 years. Each piece in the store is hand picked by Jack.
I have not yet had the opportunity to physically step foot in this glorious space yet! It's going to happen soon I can just feel it!
As I was scrolling through Instagram one day I saw a Jack Retro post about this Halston dress which had made an appearance in Sex and the City 2. My heart almost stopped. I called the store and said, "I'LL TAKE IT!!!!".
Talk about a dress with a story.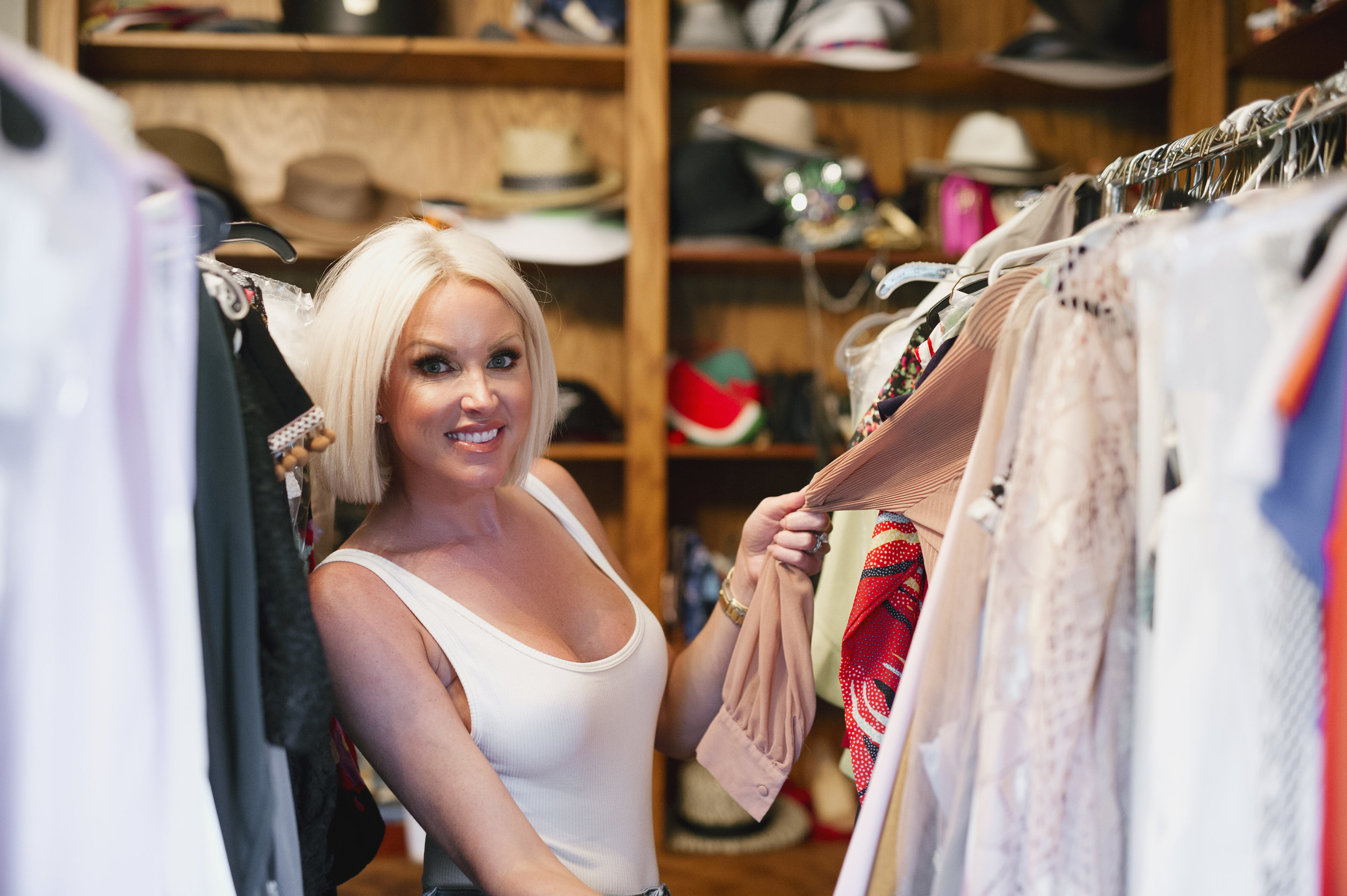 Here are several additional consignment stores I follow on Instagram.
The last reference listed, The Find Chs, is a dear friend that just started this online boutique. A lot of her events are pop-up style, which is so fun!! So if you're local definitely give her a follow to keep up with future events!
When people first walk into my closet they think, "Oh my god, you have so much stuff!".
And while, yes that's a true statement, to me it's a collection of pieces that I have hand selected from Goodwill's and upscale designer consignment stores my entire life. Each piece to me has a story, has a moment, has a reason I had to have it.
It's easy to think I'm materialist for sure, but once you know me you see I'm just passionate about the art behind fashion. For me having a designer piece isn't about the label, it's about having a moment in art history and if you can find it for a severely discounted price then that FREAKING rocks too!
If you're like me and love the FIND I hope these resources assist you on your journey! Good luck to finding some special pieces that make you feel fabulous and silently demand the attention of a room, because being you ROX!
-Lyv