We've discussed the traditional plaids of Christmas attire and crossed off chic tweeds polished or unpolished.
Now let's tap dance over to more boho chic choices and a personal favorite, STAR PRINTS. These lewks will have us deep in some Christmas Coachella vibes! IMMA, IMMA STARGIRL.
(This post is paired best with The Weekend "Starboy" lightly playing in the background.)
For whatever reason anytime I walk into a store or boutique I tend to naturally gravitate to any items with a star print!
For me, it's a print that seems to have a place in your wardrobe no matter what the season is…hot, cold, WHATEVER, you're a STARGIRL! It's subtle, chic and a piece you can pull from your closet for seasons to come.
Perhaps star prints are not your thing!
Not a problem! When you read this post just think about a print you do like and how you could apply these styling choices to a pattern that's more on your radar!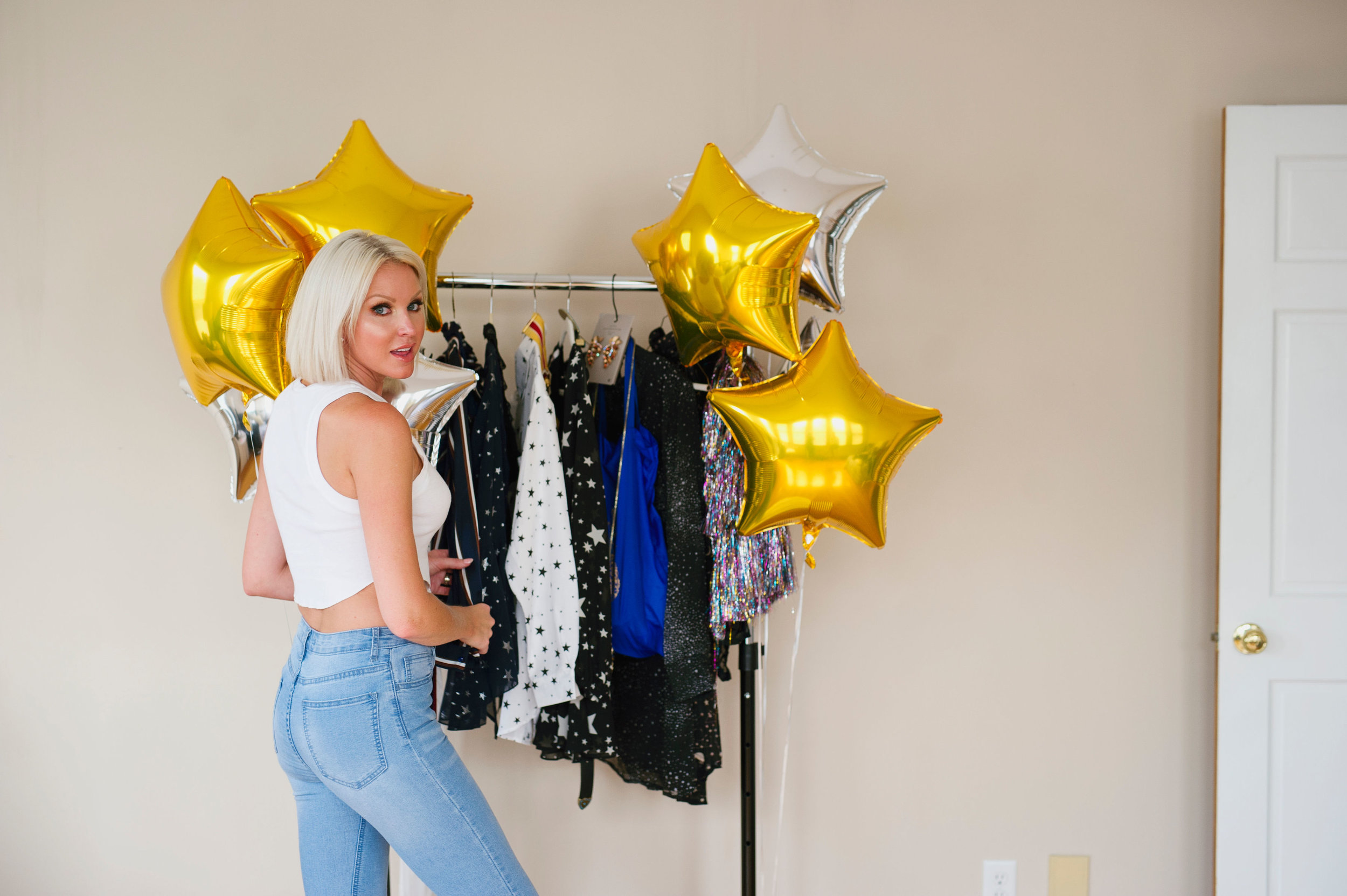 Chris actually doesn't particularly care for star prints either.
Obviously not as in his wardrobe, but when I style a LEWK using my favorite print. And again, that's ok, I do love to dress for my husband but I still dress for myself and what I like!
During my career with BCBG I learned a value that I hold so near and dear to my heart, which is your style shouldn't change based on the opinion of others.
One fall at BCBG there were these scrunched leggings we called the "trash bag leggings". At the time, they were pretty out there and wild. Not only did I have to wear it in the store, but I had to sell it! I had to convince others that these $128 leggings that looked like they were made out of black trash bags were the "IT" item!
And honestly, they became a big seller because they made women feel like they were doing something adventurous. Something different! Something out of the norm! Dare I say, rebellious. We couldn't keep them in stock. Women were wearing the shit out of these leggings on King Street. They're STILL my favorite and Chris's favorite pair of leggings I own.
The reason for this little rant is I have a lot of women say, "Well I could never wear that!" and I just look at them and say, who the hell said you couldn't. It's all about learning to dress your body type and the FIT. YOU can wear whatever the hell you want, believe me I've been doing it for YEARS.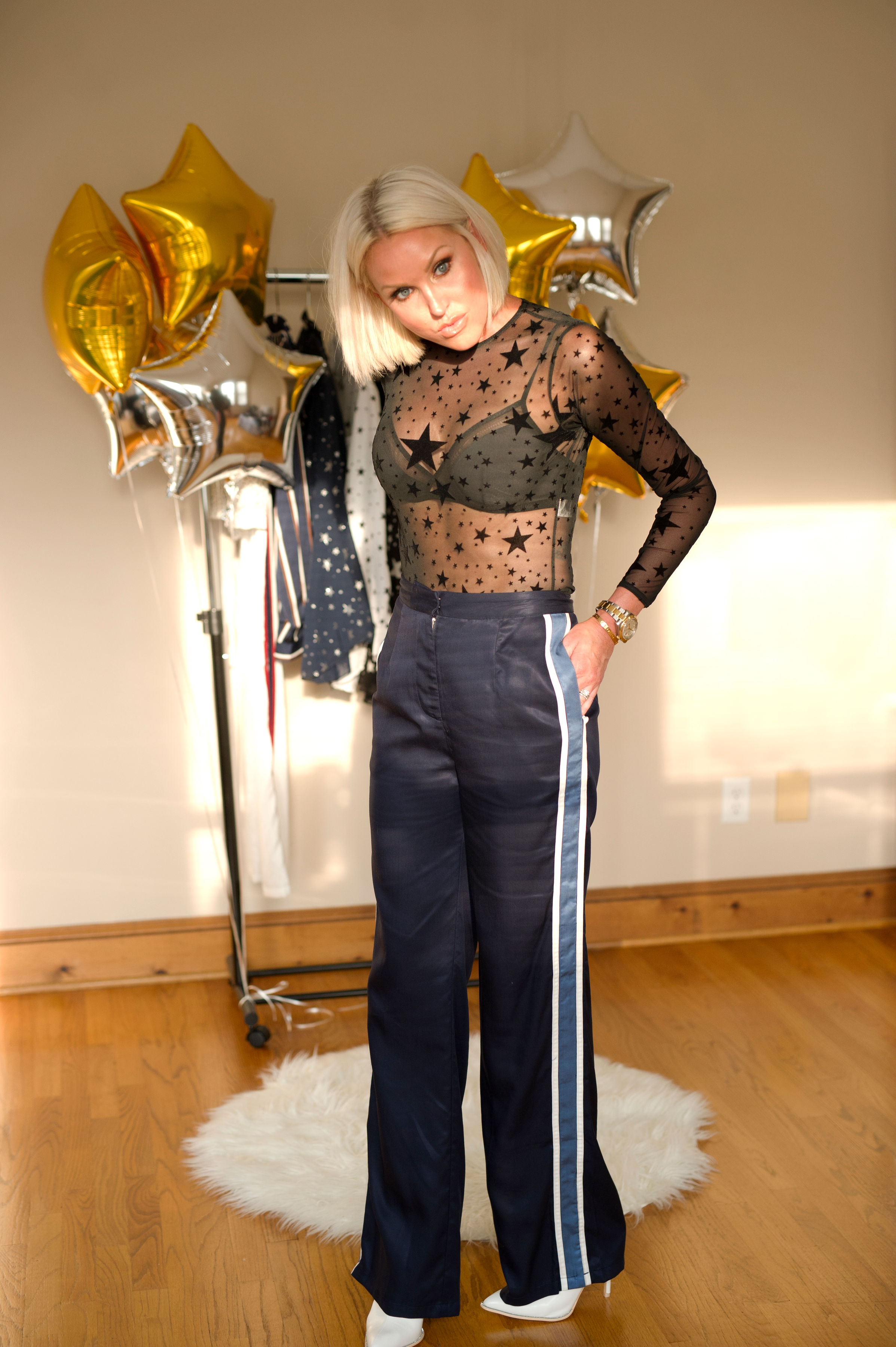 This year, I'm dressing like it's Christmas Coachella.
The star print body suit is from NastyGal, the navy high waisted pants are from Revolve and the white bootie mules are Forever21.
Since the print of the bodysuit has a mix of star sizes and with it being an all black tone I decided it wasn't too busy to mix in the side stripe of the pant. I love to mix navy and black tones. It was frowned upon for so long and now it's not a huge faux pas.
Some of you may recall these pants…I had to reorder them after Chris did an episode of "Bitch Stole My LEWK" and stretched the ass out.
Don't get me wrong Chris has a great butt, he was the catcher for the Citadel baseball team in college but that damn thing doesn't belong in my pants!
I figured since the world has seen the black version when I reordered them I ordered the navy option.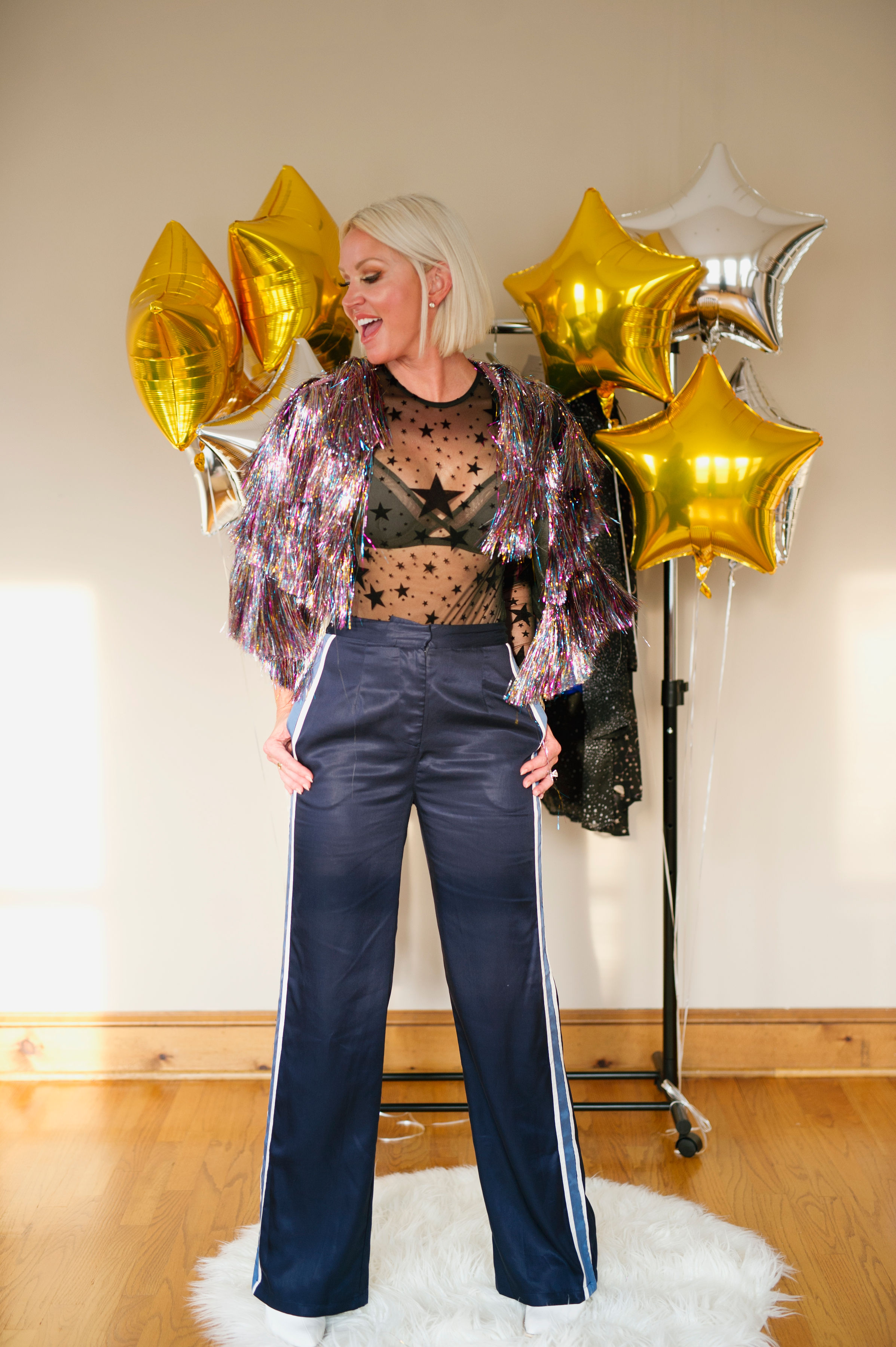 I layered a tinsel jacket from NastyGal to help tone down all of the mesh on the bodysuit.
This jacket is currently no longer available HOWEVER, I provided an Etsy link above to similar ones!
During the Holiday season we often end up relying on statement jackets to be the center point of our ensembles.
I've provided a link below to all the current jackets on NastyGal that are SUPER on sale and sure to jazz up a lewk!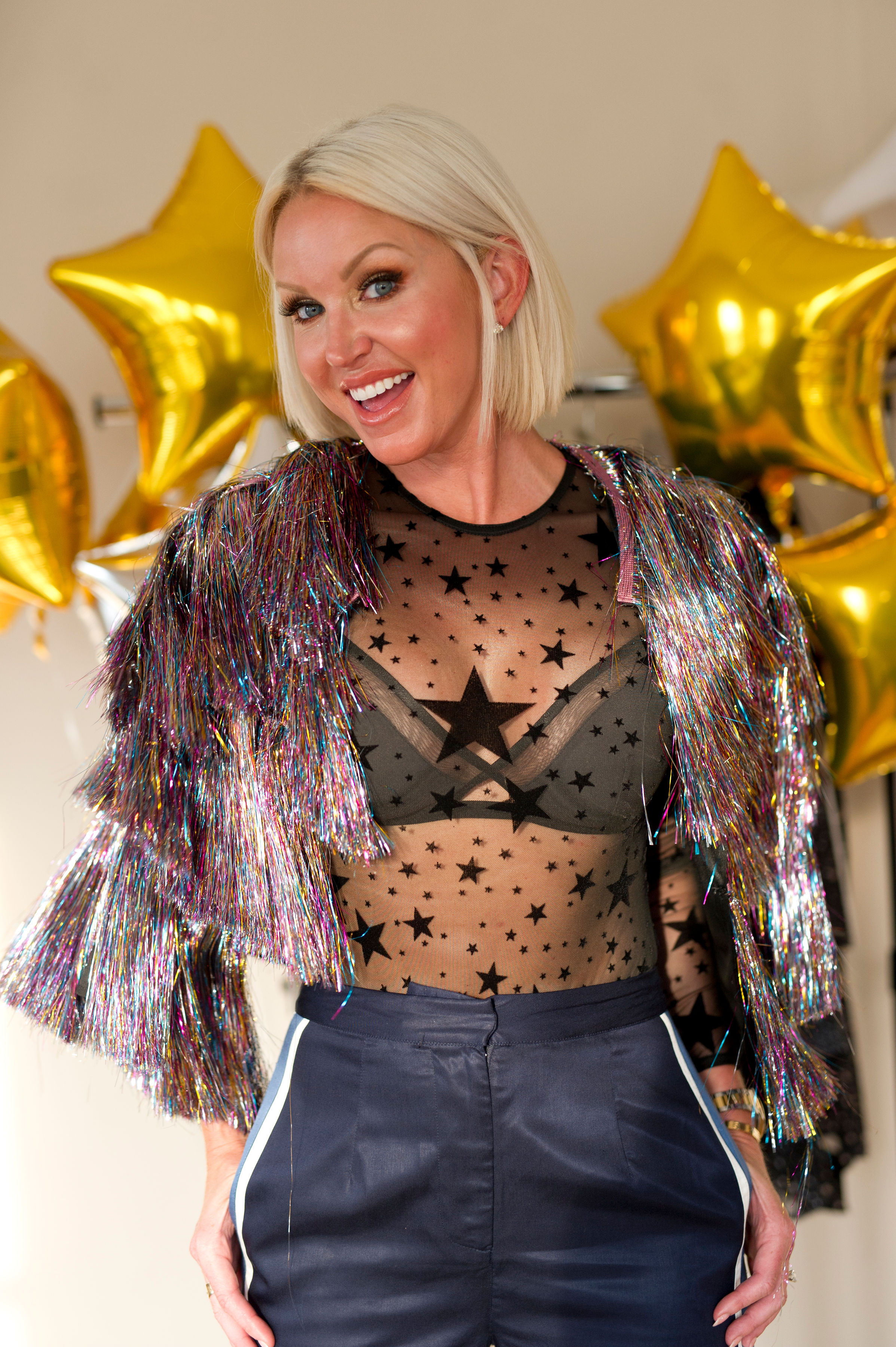 I like to choose pieces that leave a lasting impression and possibly a little trail of tinsel.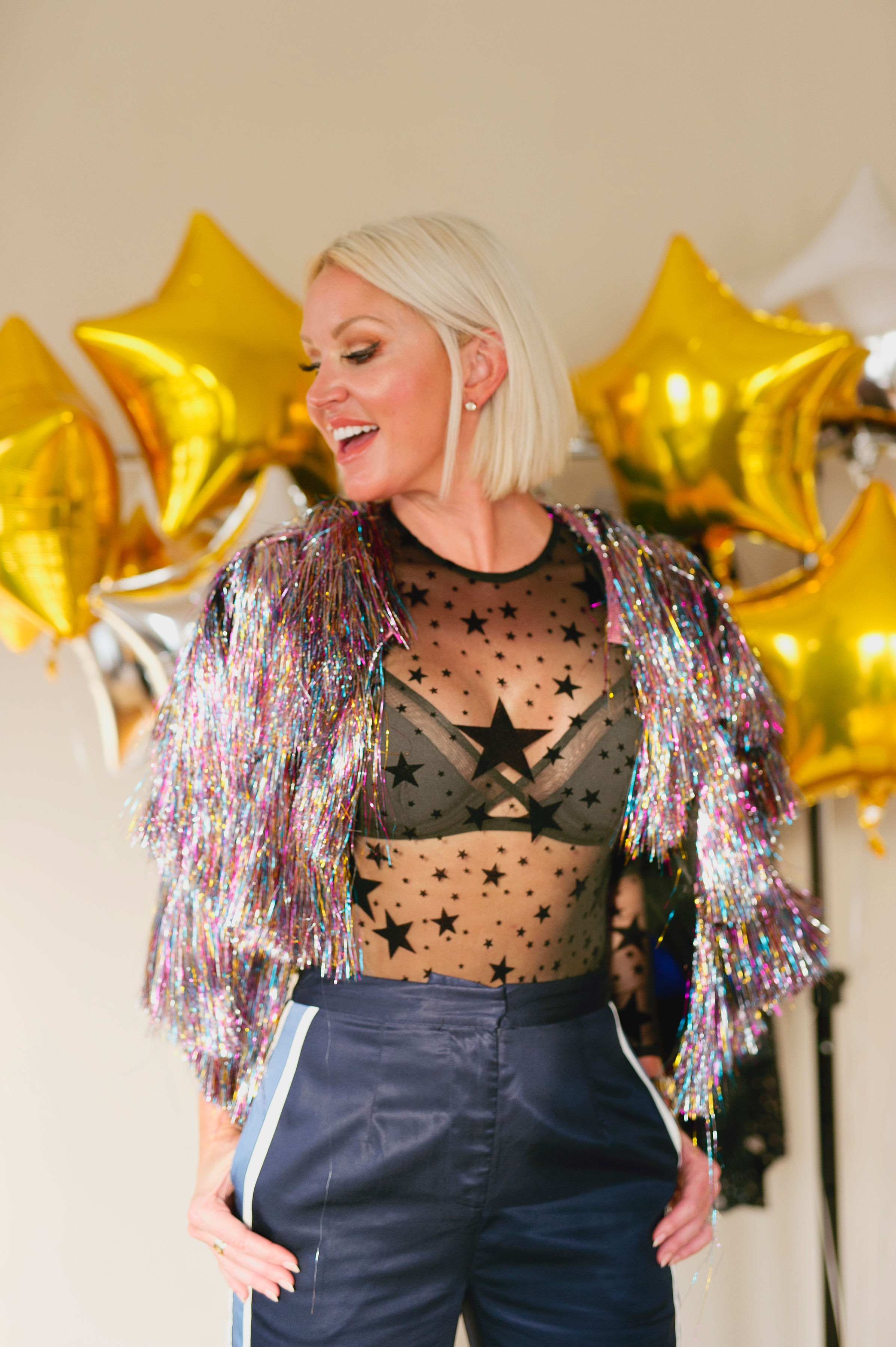 I'll be revisiting star prints after the first of the year with casual everyday vibes!
So stop telling yourself you can't wear this or that! Grab something adventurous and out of your norm and give it try…because being you ROX!
-Lyv