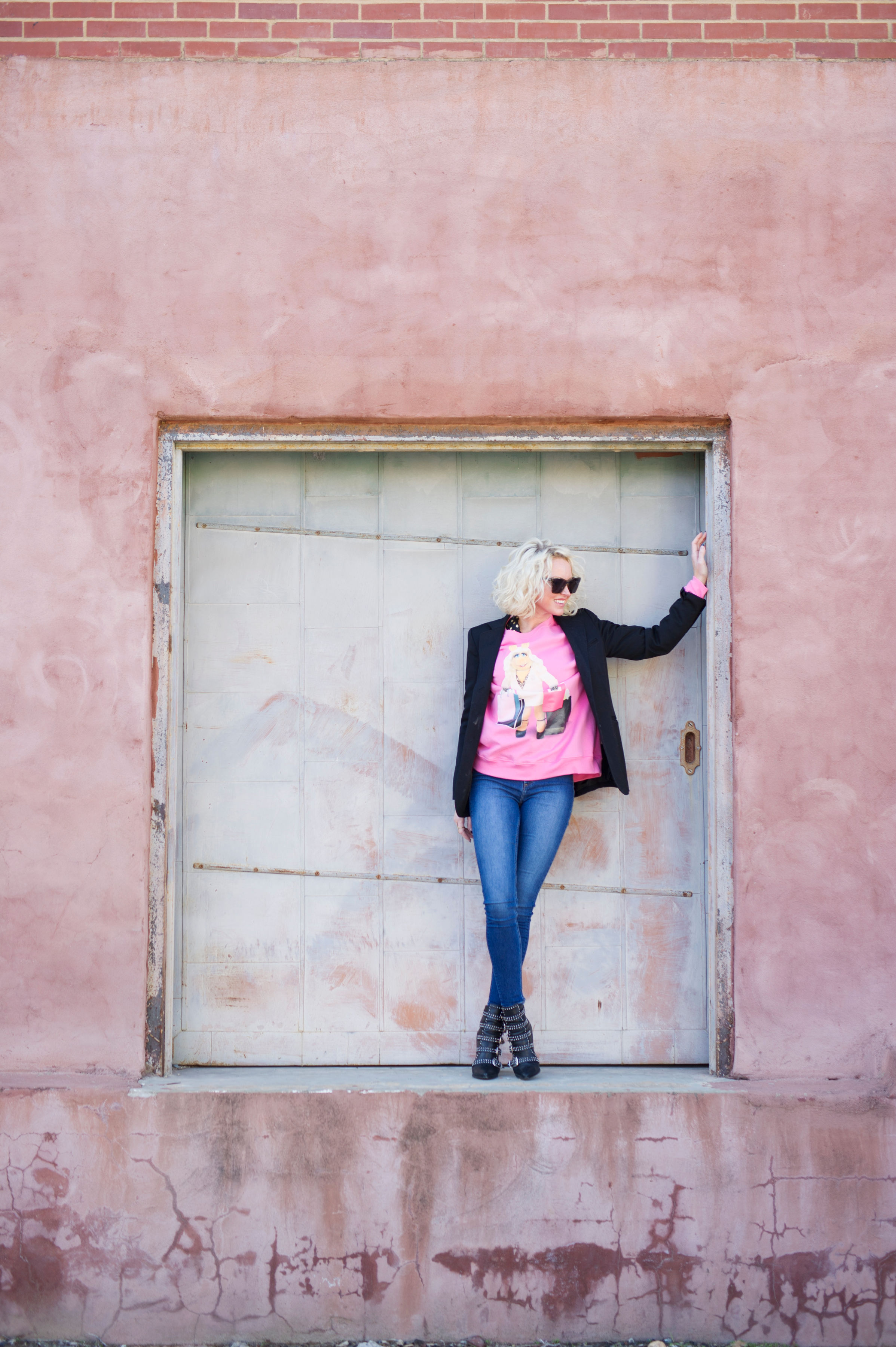 Lyv!! That title is a little aggressive, well shit! Maybe I'll think about changing it.
My first OFFICIAL blog four years ago was about black blazers. The post was called, "The New Same You". It's under the 2015 link under my blog tab at the top of the webpage. I reread it for fun times sake just now. There are a lot of typos so just embrace 2015 Blogging Lyv, she was grammatically a little reckless and excited to be here.
Overall, the focus of "The New Same You" was about how we always begin the New Year wanting to put a fresh step forward.
We always desire to begin the year as a more polished and refined package.
For me, when I feel like I just can't get my shit together I put on a good outfit, specifically a blazer.
So while I've already touched on the topic of black blazers on LyvRoxStyle, I wanted to revisit it to discuss how I'm styling the same blazer now. And how this fashion staple is still completely relevant in everyday street style.
In other words, PEEPS STILL BE ROCKIN BLACK BLAZERS!!!!
I literally used the same black boyfriend blazer I wore four years ago in "The New Same You" in the shoot for this post!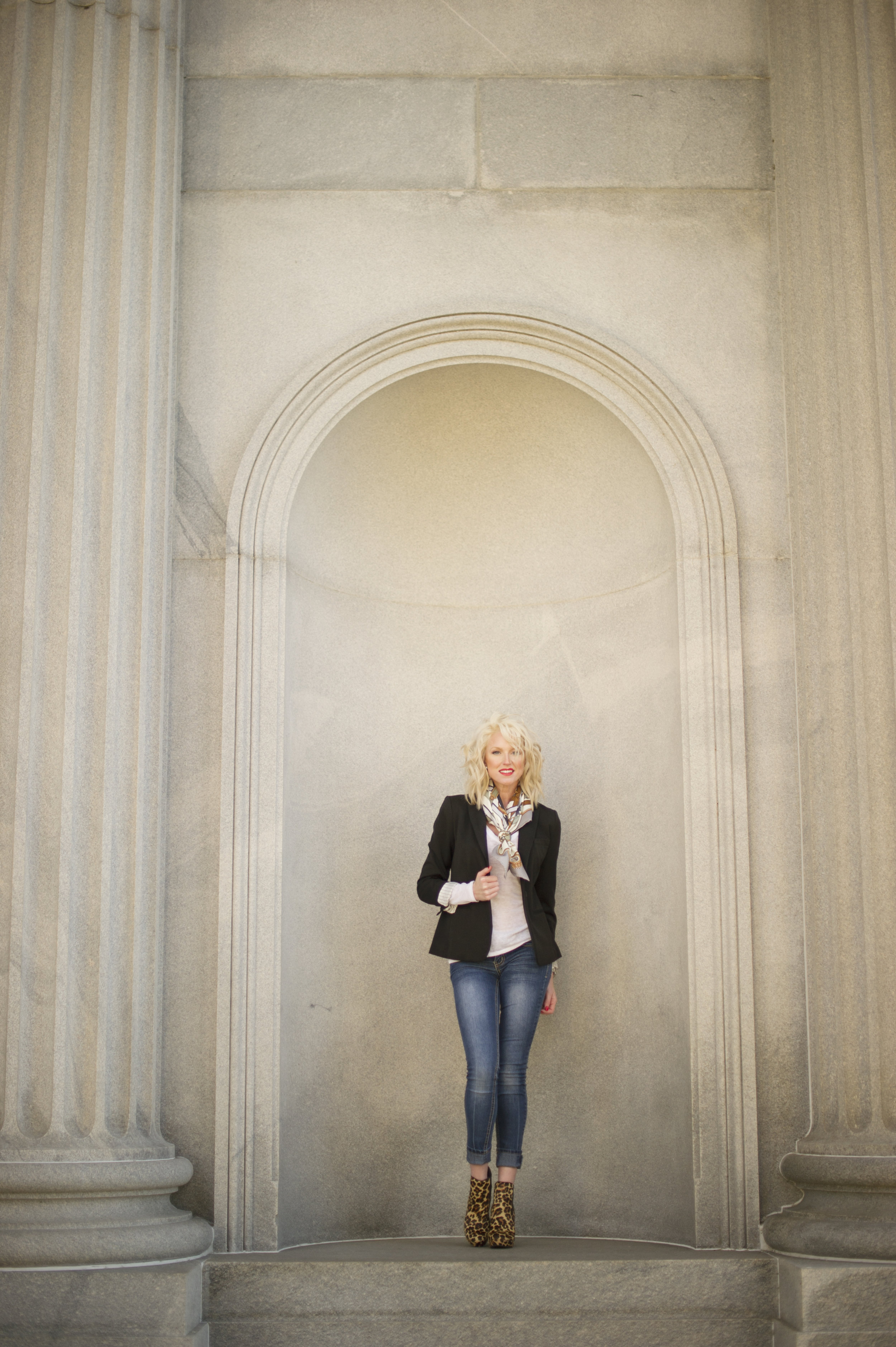 Sometimes we discuss trends that may not last the test of seasons to come.
However, this week I wanted to focus on a fashion essential that has remained a constant in my closet for years.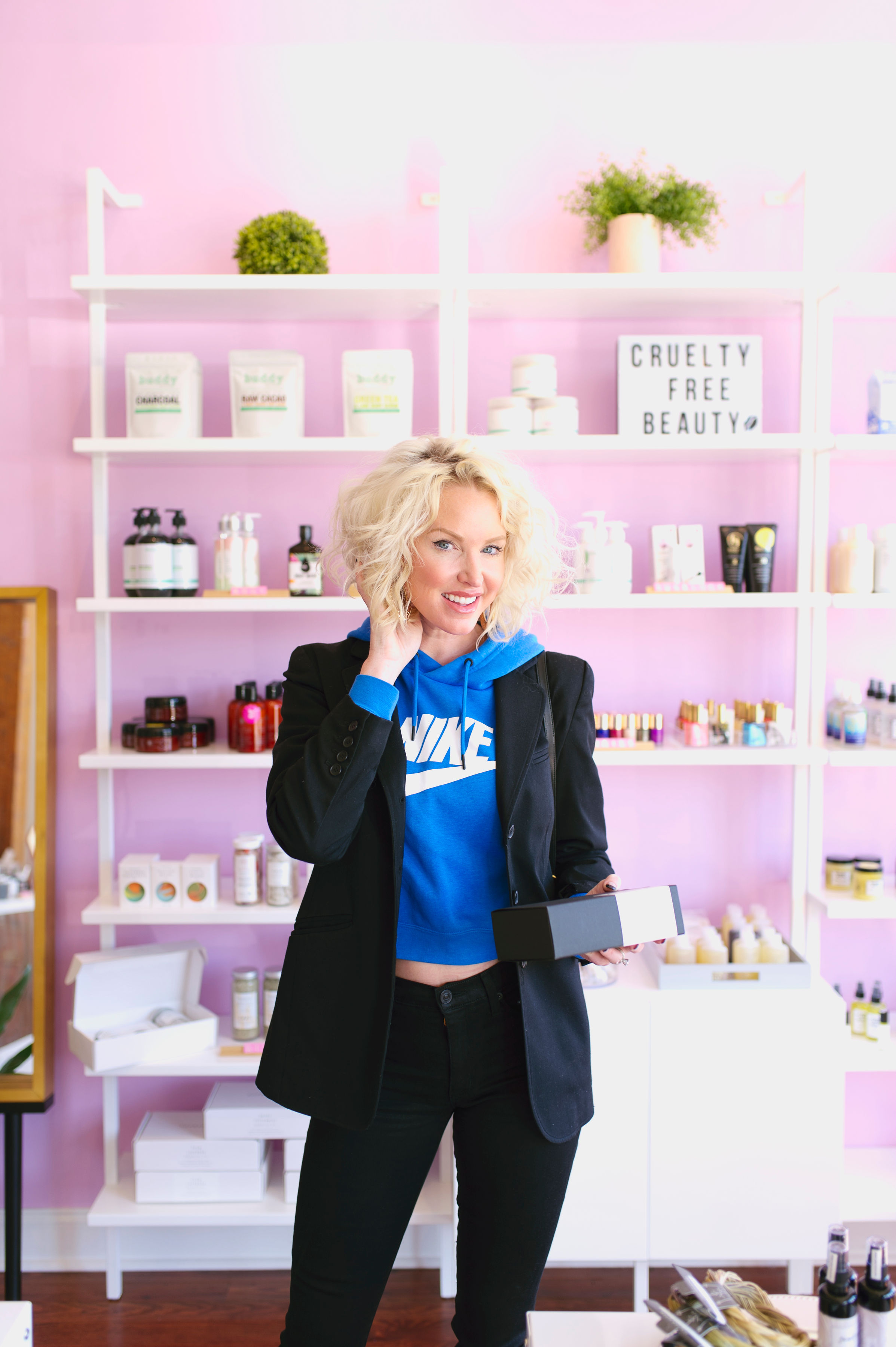 My black blazer is also my go to when I need to feel or give the impression that I have my shit together.
Sometimes we just gotta play the part on the outside and silently know we are a disaster on the inside!!
One time I was in route to meet my best friend Mindy to watch her try on wedding gowns in Greenville. I was almost to the bridal boutique and had to stop for gas. I was nervous, I was excited and I was in a HURRY!
I pumped my gas, ran inside to pay and drove off. I drove off with the gas nozzle STILL IN THE SIDE OF MY CAR!!!!!!!!!! I ripped the hose out of the gas pump. THANKFULLY by the grace of god gas did not start spewing out.
So the gas station attendant, who was also a female and of short stature -she was a cute little dumpling- ANYWAY she came running out of the gas station as I stood by my car saying, "I think I fucked up".
She kept repeating, "Oh lawd the owner is not gonna like this". Which lead me to just frantically but politely scream, "WHAT DO WE DO?!?!? HOW DO WE FIX THIS?!?!?". She was like, "I don't know…" and just stared at the hose in my car like her life was going up in flames. I left her my name and number and told her to have the owner call me if there was something I could do and I ZIPPED down the street into the bridal shop right on time!
When I walked into the boutique Mindy and the bridal stylist told me how much they liked my blazer…to which I replied, "Thanks I just drove off with the gas nozzle still in my car and ripped it out of the pump. Hi! I'm Lyv nice to meet you." (And stuck my hand out to shake the stylist hand.)
Mindy died laughing because she just knows at this point that I am a walking disaster. The bridal stylist just blinked at me (I get this expression ALL THE TIME) wondering if I was serious and shook my hand like a dead fish.
The stylist walked away and Mindy whispered, "Did that really happen?!". And I said, "YES DAMNIT!! Where is the bathroom because if there is any static in these dresses my gas covered hands are gonna blow off and I'll be holding your wedding flowers with metal hooks!!!!".
Pretty sure Mindy sure walked away because she could no longer look me in the face and I don't blame her. She probably hid in a rack of dresses wishing we weren't friends!!! HAHA! Oh my god, I am dying as I type this. At least I was wearing my black blazer.
So now that we've reminisced on how I'm a disaster let's touch back on how I styled this blazer 4 years ago.
The concept was to begin with a white t-shirt, jeans and a black blazer; then adding accessories to diversify the LEWK. I still really love everything about this outfit. In FACT, i forgot I had this scarf so I'm to go look for it when I get done writing this. I don't ALWAYS love previous outfits I style. Sometimes I look back at pictures and think to myself, why the hell do people listen to me for fashion advice?! Ha!!
But like I said, I'm still all for this vibe so I feel like a fashion genius right now. I would listen to me for today at least.
ALSO, these pics are giving the courage to keep growing my hair out and not chop it off. Like who is this girl, I haven't seen her in years?!
Fast forward to present day and now I'm layering the boyfriend black blazer with more casual pieces. We are seeing athleisure wear more and more in our everyday outfits other than the gym. I chose a bright blue Nike hoodie from Dick's to pair under my blazer. (This hoodie comes in a TON of colors and is currently on sale, I've linked it below with the blazer.) Despite the hoodie being a bulky shirt it works under this blazer because of the oversized "boyfriend" cut. This wouldn't work under a traditional tailored blazer.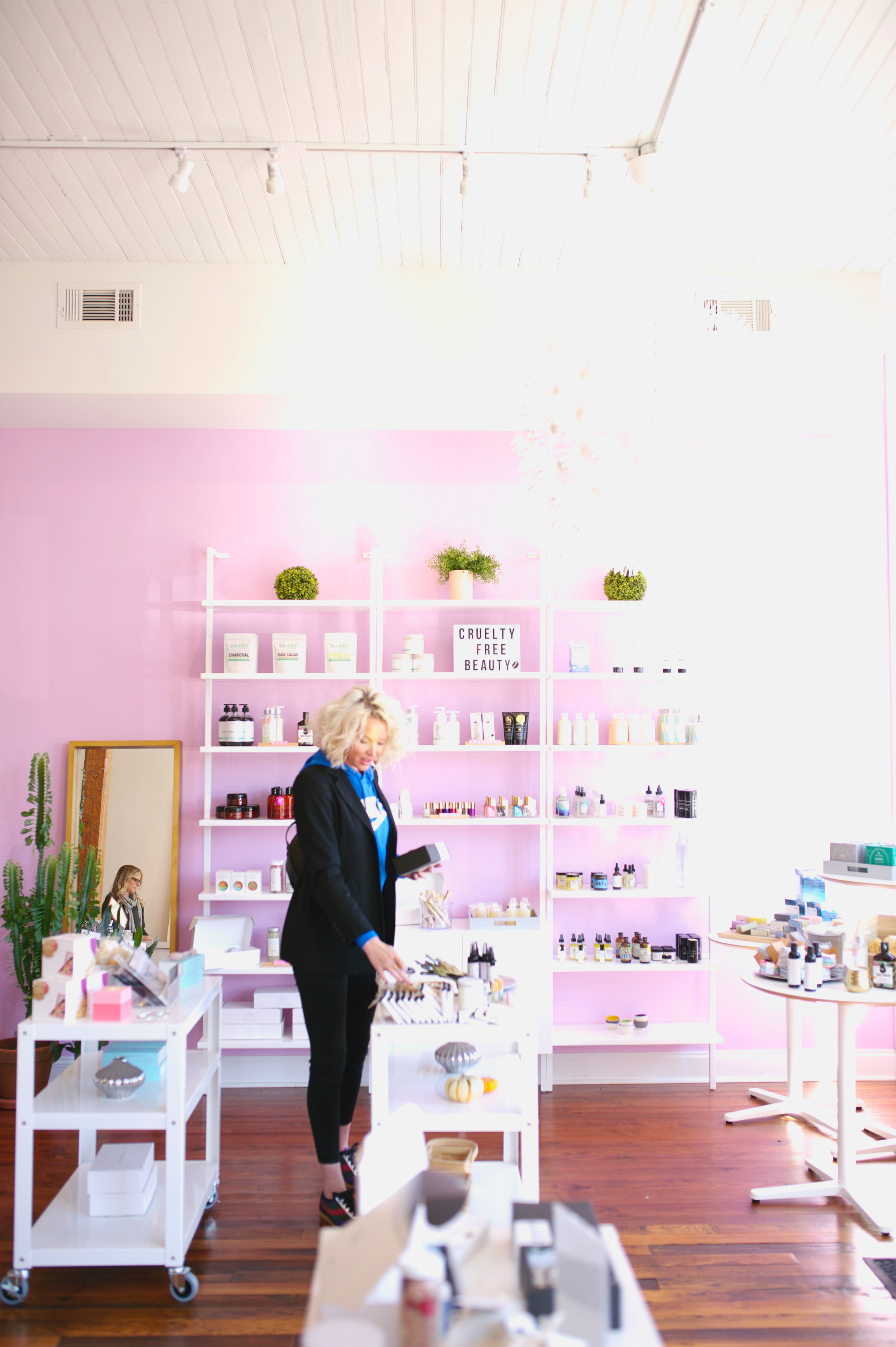 I didn't want the blue colors to compete with one another so I paired my black Hudson jeans and a funky pair of Gucci sneakers.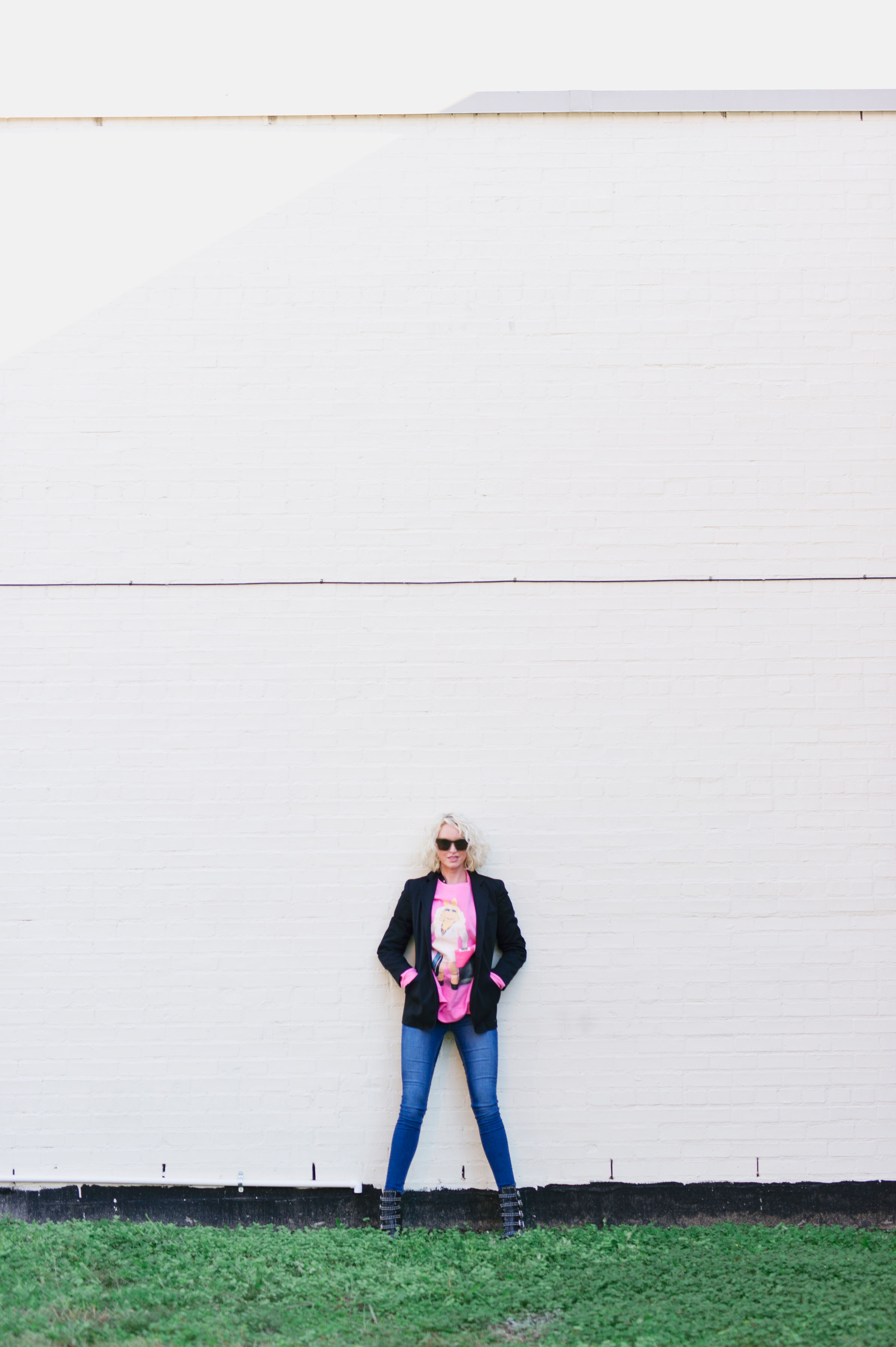 For another sassy blazer lewk I chose a "Miss Piggy" sweatshirt and a pair of studded booties.
The vintage/graphic t-shirt vibe has transpired into funky sweatshirts and Miss Piggy is a class act I couldn't let pass me by.
The booties I am wearing are by Steve Madden and sold out, however I found a "dupe" (knock-off) pair on Forever21.
SIDENOTE: This whole rhinestone cowgirl vibe you're starting to see in the streets is not going ANYWHERE. It's coming and it's coming in HOT. Western influence is my JAM and we will discuss this in greater detail soon!!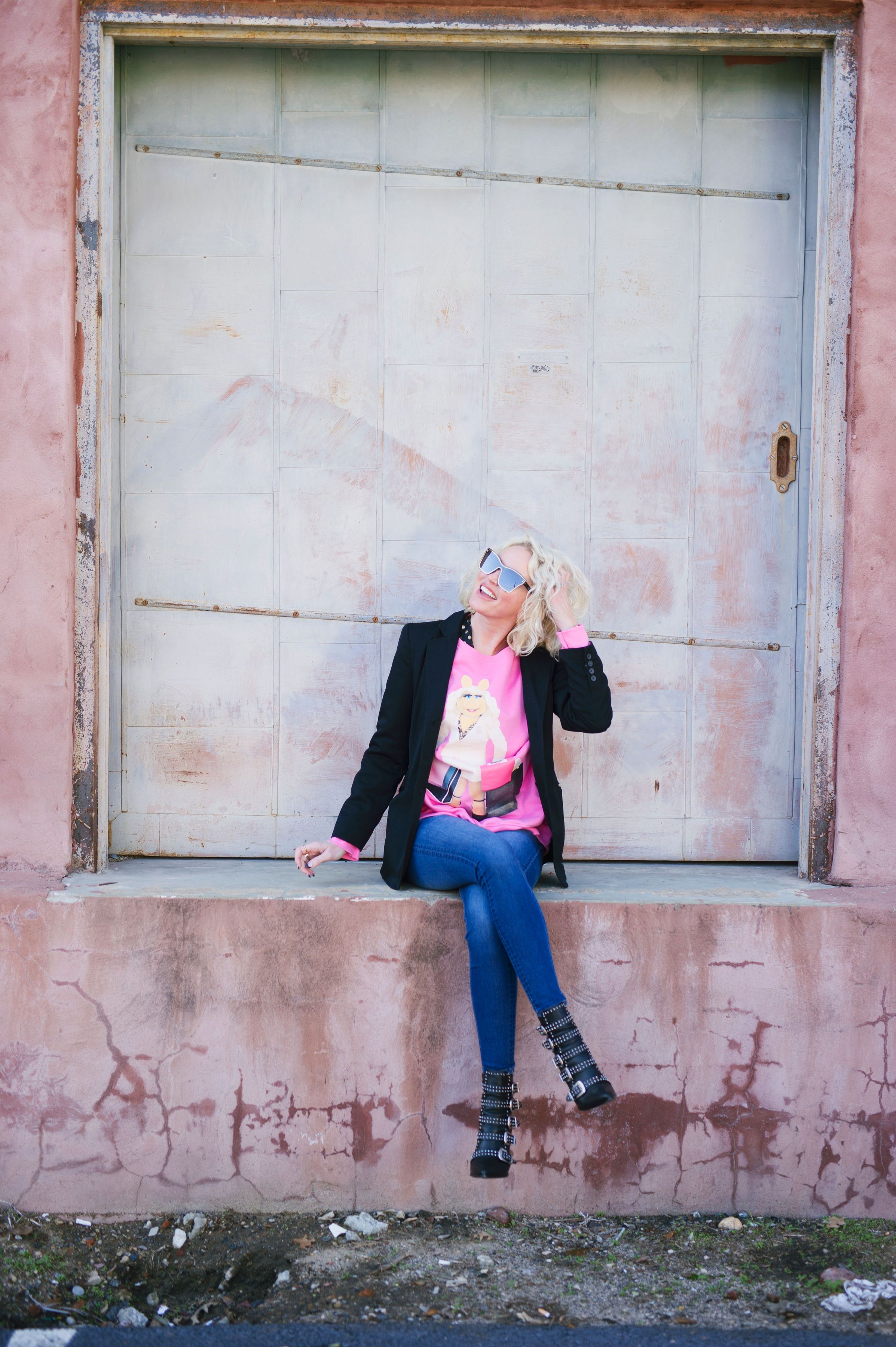 So if you're feeling like you might be a disaster today, just pull out a blazer and fake it 'til you make it with me!
And remember, being you ROX!
-Lyv
This is us on Mindy's wedding day. Thankfully, I didn't blow my hands off because a bug got stuck in her veil and the photographer caught me brushing it out. imagine if I had had metal hooks for hands in this picture?!
WHY AM I LIKE THIS?!?!
Also, below you'll see they put in charge of pulling the childrenz down the isle and shit was starting to go south. Pretty sure I'm saying, "I have NOT had enough cocktails for this yet guys…we gotta get it together!".
Another fun example of me being a disaster is the day before Mindy's wedding my hair got ruined and turned in to like two different colors than it should've been. Feel free to revisit that blog, Hair Horror Story under my archives. My current stylist, Lindsey Crider, had to work for months to bring my hair back from the depths of destruction after this.