If you've ever seen me traveling, I'm in an Adidas dress. If I'm going to get a spray tan, I'm in an Adidas dress. If I'm going to dance on a bar that's on fire, I'm in an Adidas dress.
Wait Lyv! That last one isn't true!
Yes it is…here's the picture to prove it.
This was in Miami, of course, for Kristin's bachelorette. She is the beautiful bride I am helping to climb on the bar. Setting the bar on fire is standard procedure for this particular restaurant, Baoli, so it was only fitting I was wearing an Adidas dress.
They were like just don't step on the glasses. We were like, "YOU GOT IT DUDE!!!". She stepped on 6 and broke them all. OOPS!!!
What's the big deal with Adidas dresses?!
Years ago I was shopping at DICK'S Sporting Goods and saw an Adidas dress on the clearance rack.
I knew athleisure wear was a growing popular trend and I would probably get a lot of use out of this dress.
Before I get into the dress I just wanted to clarify, I'm not screaming "DICK'S" at you through the computer the all caps is the standard procedure for the logo.
And today, we're keeping things standard procedure.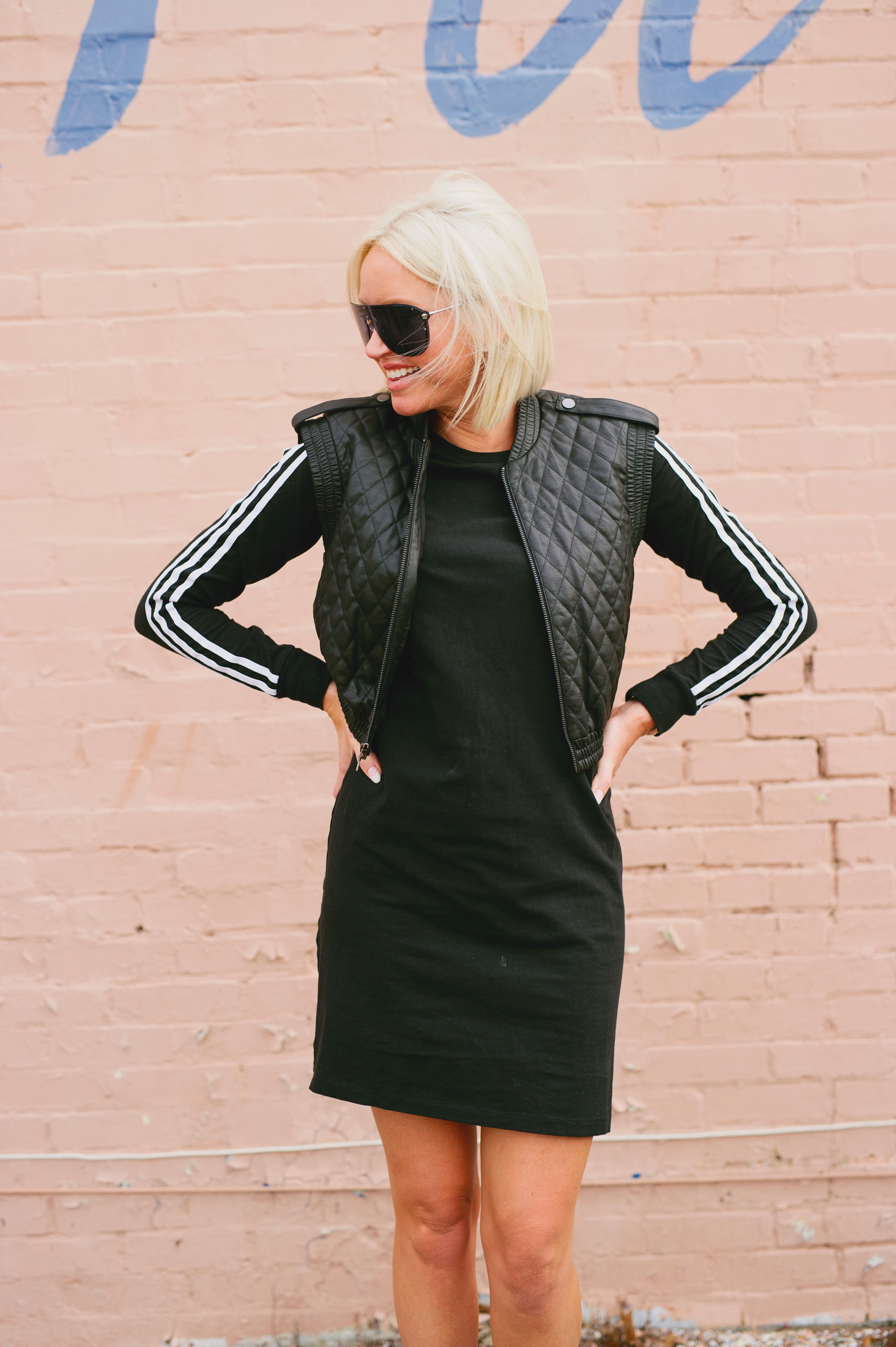 Now when I look at an Adidas dress in my closet, I know exactly how I want to style it!
However, that day in the fitting room at DICK'S -ok maybe I was shouting it through the computer that time- I was stumped on if it was a lewk I could pull off.
So maybe if, an Adidas dress is not for you, I wanted to walk you through my thought process and personal hesitation that day, which maybe you experience as well when shopping!
My first question was:
Am I too old for this?
YES! Despite some of the outfits you see me wearing, I actually do ask myself that question. And then I remember…I don't care how old I am.
How will I wear this?
Now, when I look at it, ideas naturally come to mind. BUT! That isn't always the case at first when I purchase a new style.
How long will I like this?
This question can be difficult to answer at times, because you just don't know how much you will or won't love a new trend! This particular dress was marked down I think to around $20 so I felt comfortable in taking the chance at that price point.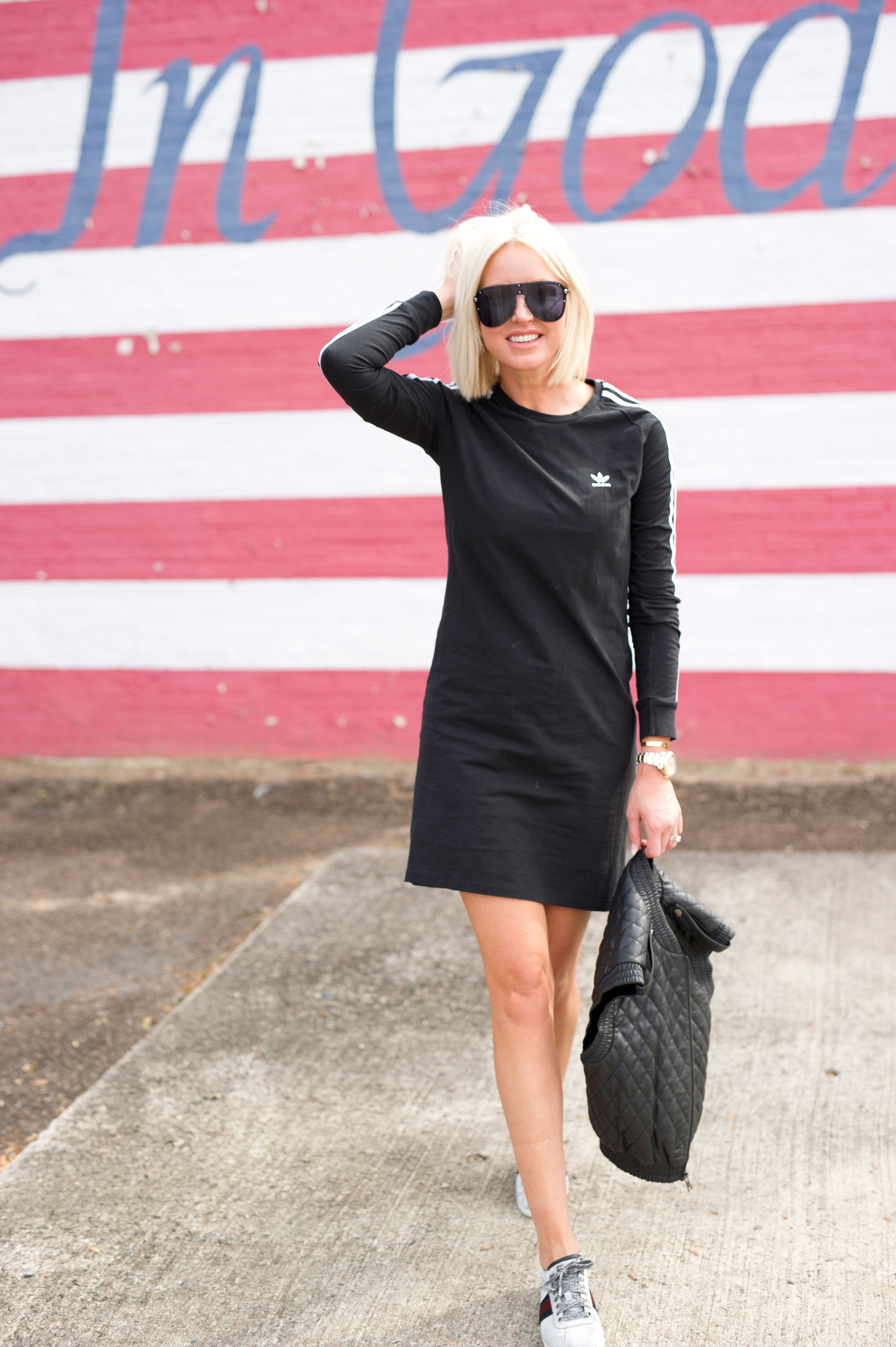 Since an Adidas dress is technically "athleisure wear" my first styling thought was, I'll just pair it with sneakers.
Styling the dress for a casual avenue felt like the safest option, I would feel most comfortable in pulling off the lewk.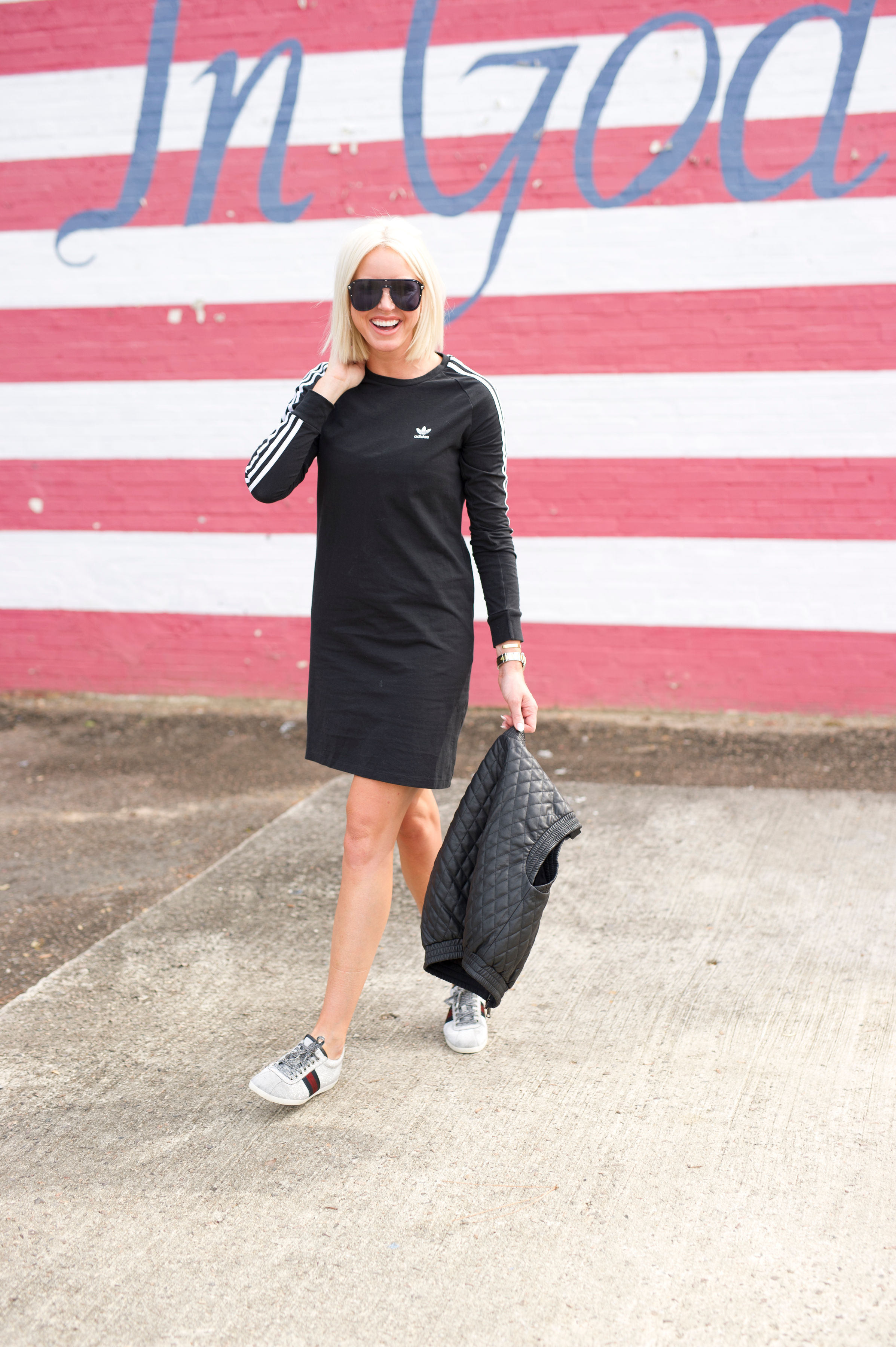 I cannot express how much feeling comfortable and confident matters when you're being adventurous in your style.
Lyv, you've said this A THOUSAND TIMES. I know!! But it's TRUE! You don't have to push full steam ahead in trying new trends or styles.
Staying true to your comfort level and gradually working your way outside of your usual style box will help build the foundation of confidence in future style choices.
Don't be afraid to give yourself some time to warm up to ideas!
All of things I am wearing in the pictures above I haven't always been comfortable with! For instance, those boots I purchased about a year ago, and when I tried them on I felt like I looked like the "woman in the shoe". You know that children's story?! Because, first of all, they're an 8.5, so as I have mentioned before some shoe styles just look bulky on me.
I had to become COMFORTABLE with the style of a bulky combat boot. I wanted a combat boot with a heel and that's just how they're all going to look on me. Now I love these boots and wear them with everything. I have even worn them swimming!
Let's bring attention to the fishnet sock peeking out of the top of the boot, again, we discussed that topic at the end of the last year. Another trend we eased ourselves into! (Feel free to reference my blog "Socks: Homey Does Play That" in case you missed it.)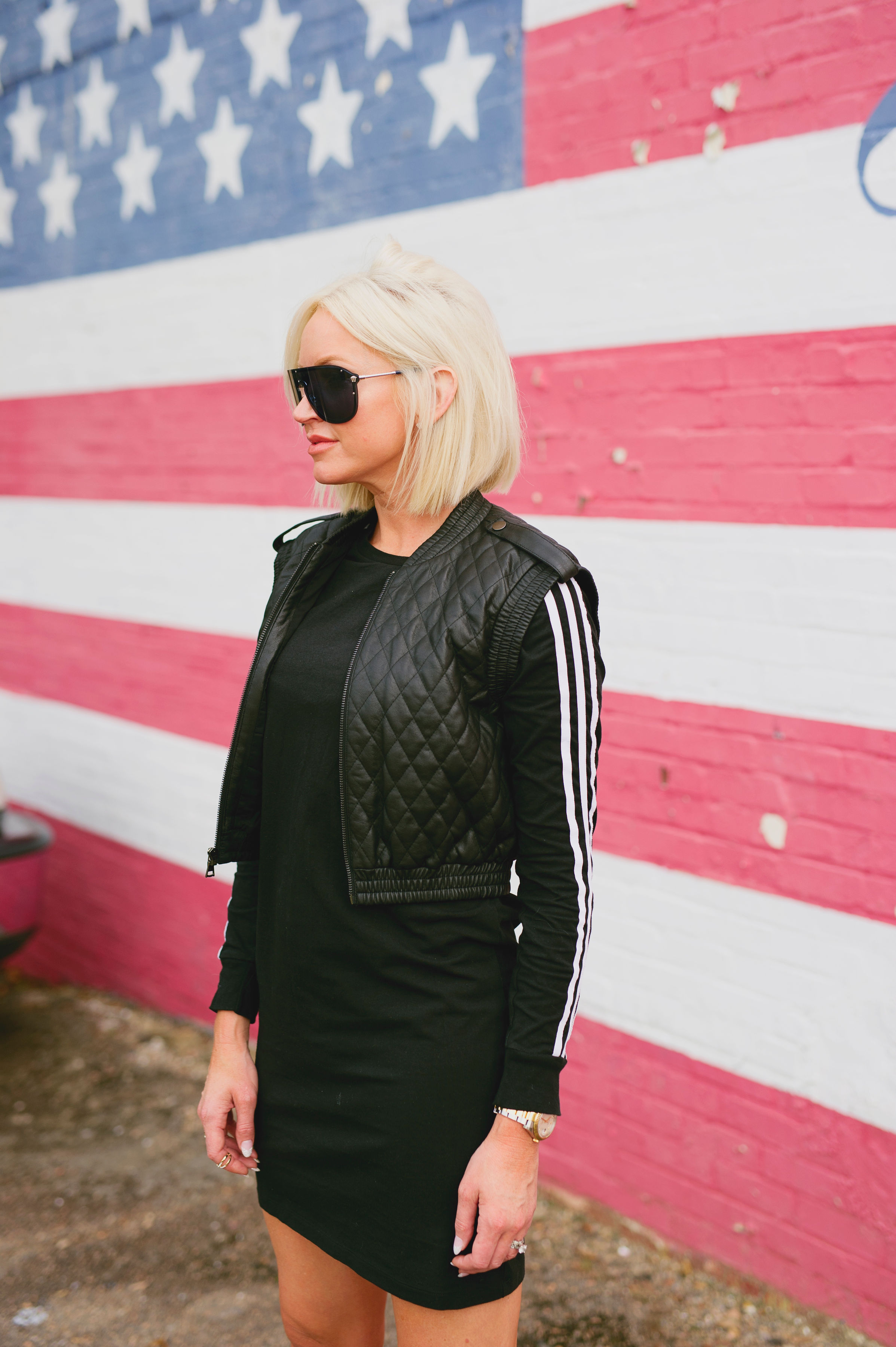 The fit of this long sleeve Adidas dress is more of a baggy style with no shape.
I paired this vest which hits directly at my waist, so it wouldn't look like the dress was wearing me and I had some shape in it.
If you look back above when I don't have the vest on with the tennis shoes you'll see what a difference it makes!
Be aware of your shape and play to what flatters you the most!!! Look at your body in the mirror and embrace it!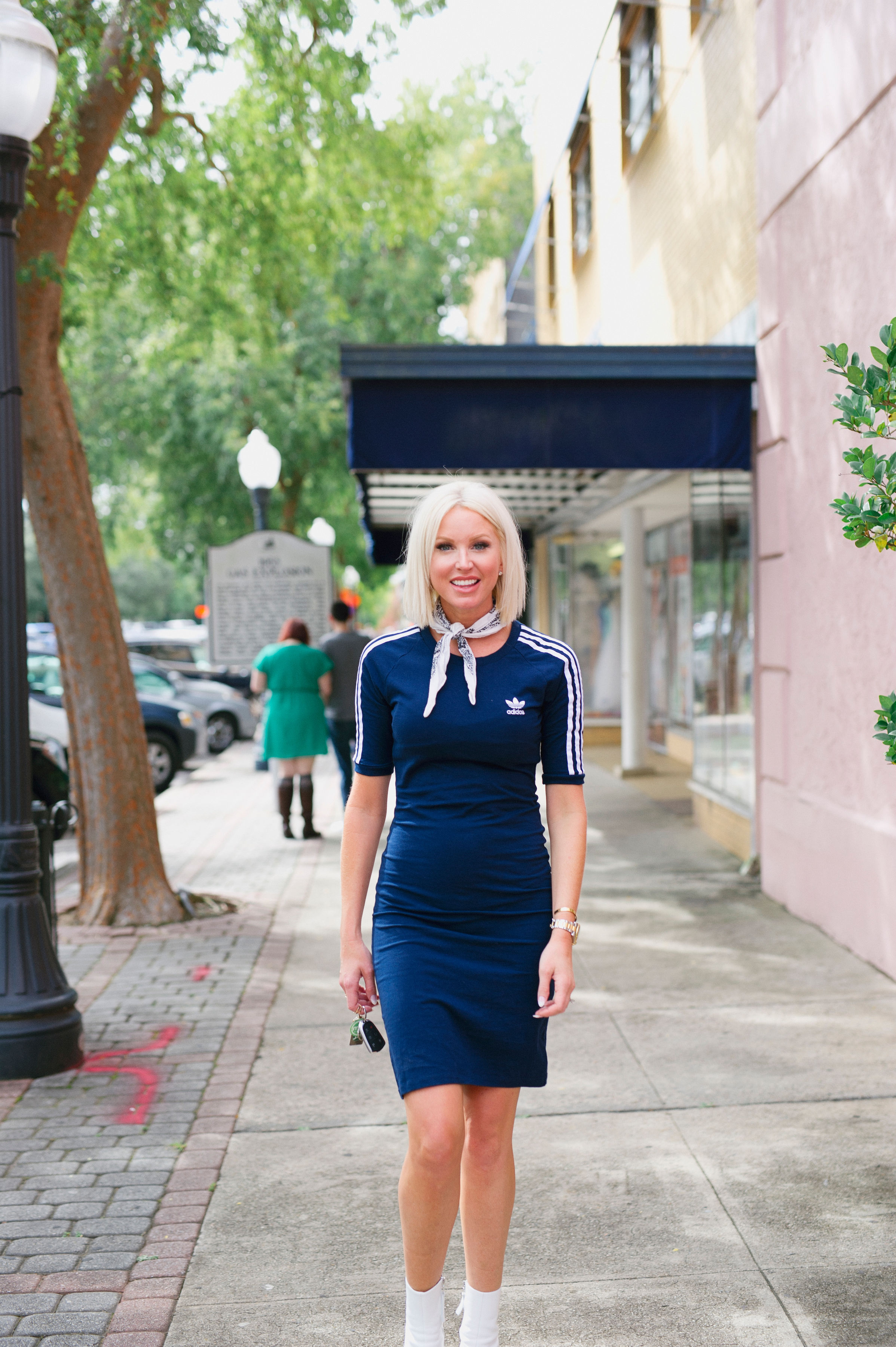 Styling the Adidas dress in a feminine manner was the biggest challenge!
I almost feel like this entire lewk makes you forget it's an Adidas dress. Here it just feels like a great outfit!
Just kind of like…oh HEY GIRL!
The cut of this dress is way more tailored! Because of that I paired a less chunky boot with this lewk! I played off the stripes on the shoulders and went with a sleek white bootie.
I included the bandana for a subtle print. I wanted to break up the structure of the outfit with just a smidge of print and I think it accomplishes just that!
I ordered this Adidas dress online from Nordstrom.
I am a complete review nerd! The reviews on this dress let me know it ran pretty small, so I ordered the size medium.
Another important point!! Read reviews!
I do most of my shopping online these days and they typically include the measurements of the model and what size she is wearing.
Know your measurements! And hey I get it sometimes our measurements aren't what we want them to be. But that doesn't mean if you lie to yourself an outfit is going to magically be flattering.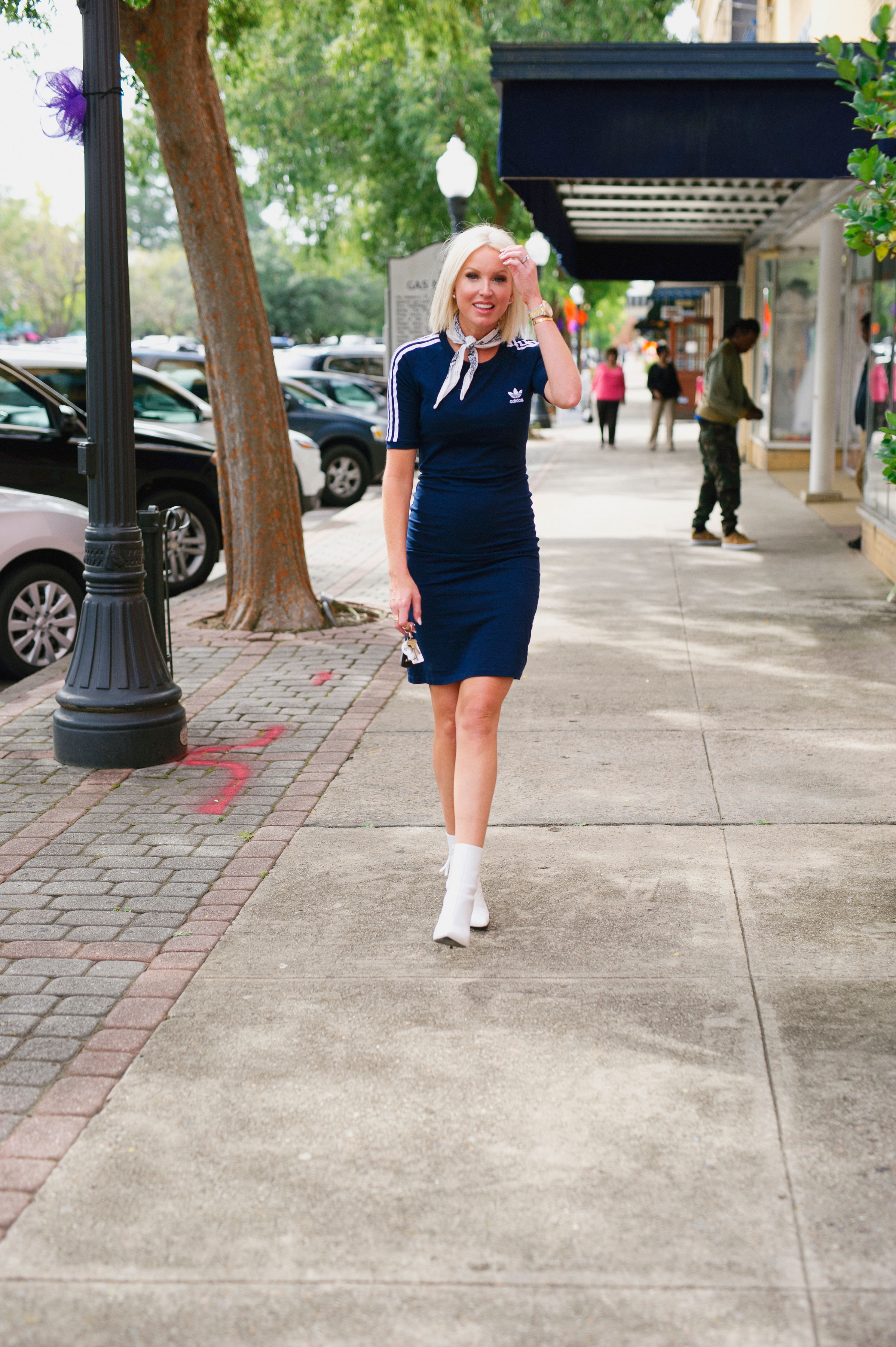 In the past my figure has been pretty much, a bean pole, which I didn't like that. Curves are sexy!
We actually had a funny discussion about it recently with friends because they noticed I had put a LITTLE curve to my shape.
Jeff described it as, "I went from a shaved number 2 pencil to a shaved number 2 pencil with the cushion grip."
HAHAAA!!!! I just died!! That's the funniest shit I've ever heard. And it's true!
In fact, while I was writing this Jeff sent this pic in a group text saying he was filling out paper work and thought of me!! HAA!!!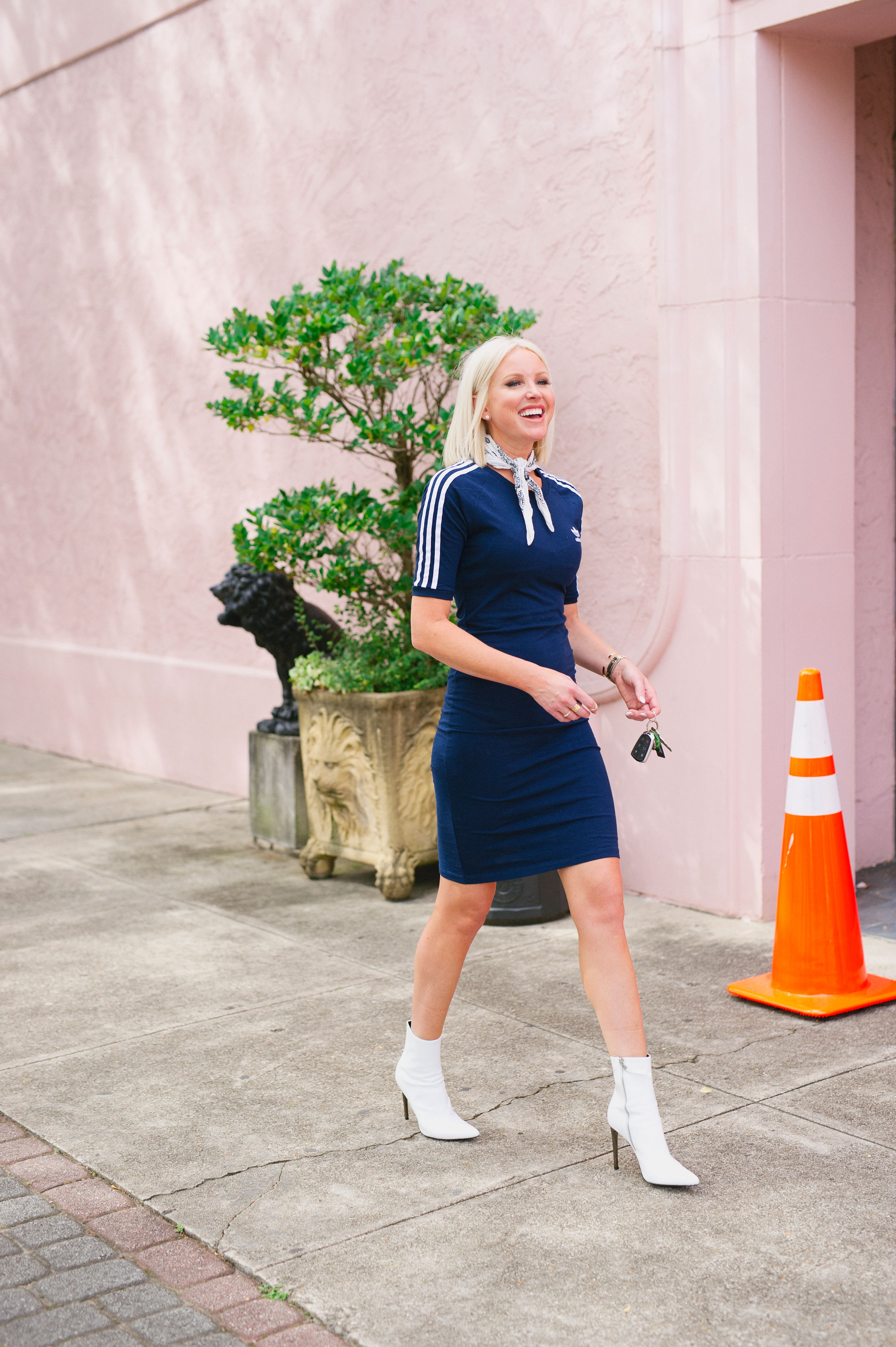 Have you found yourself hesitant like me in a fitting room? Hear my words and ease into confidence with me.
Embrace yourself, love it and learn how to rock it!!
Because being you ROX…
Until next time!
-Lyv