September used to have a whole different meaning for me fashion wise.
It's the release of the highly anticipated September issue, which is the Bible for fall fashion. Dare I even call it the trophy of all issues. Each magazine is the size of a phonebook! I would sit with my Vogue and Harper's Bazzar slowly flipping each page soaking in the colors and drooling over new styles.
But now, in September I start drooling over trophies of another kind.
I turn my sight to Death Valley.
I begin drooling over the possibility of making that trip down to New Orleans in January.
As always I admit, I'm not here to talk smack about football teams.
I'm here to tell you about the clothes and how we should stop being mediocre at the tailgate!
I'm here to bring Dolly Parton to Death Valley.
I may also touch on how having the Natty in California was the worst.
The jacket and shorts pictured are from NastyGal. I was recently at a dinner with our dear friend and devoted Gamecock fan, Lauren Metts. I was telling her about my opportunity to shoot this blog in Death Valley. She exclaimed she had seen the perfect outfit!! She pulled out her phone and showed me a screenshot of this outfit, which I already had packed to bring to the shoot the next day.
See! Great minds think alike even if they're for rival mascots!
If you click the link above for the purple fringe coat and it says "out of stock" I found a few more in black or gold that are just as divine!
(The purple was low in stock, but you can sign up for restock emails!)
The black one you can definitely wear to the grocery store this fall.
The Clemson t-shirt I have styled here, is from iibrunettes in Charleston.
It comes in gray or white and I am wearing the medium, so I can tie it up in a loose knot.
Here's a link to their Insta page. They ship!
I wanted to be really over the top with the lewks I styled for this shoot, on purpose.
I wanted to pair choices even I hadn't worn or dared to think of wearing at the tailgate.
I'm a Dolly Parton girl at heart and these two quotes by her are my FAVORITE and exactly why I titled this blog, "Dolly Parton Meets Death Valley".
1."Find out who you are and do it on PURPOSE."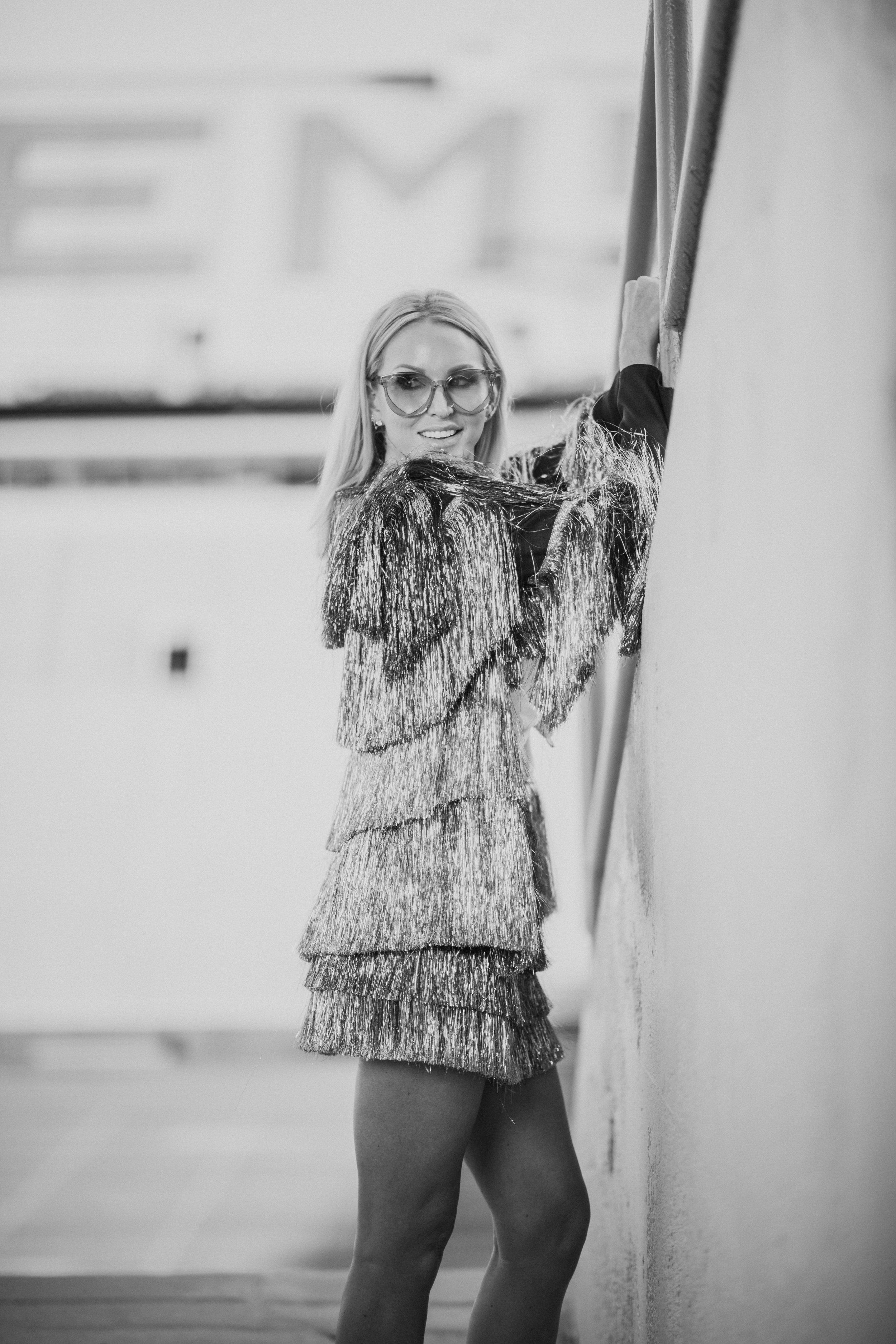 2. It's a good thing I was born a girl, otherwise I'd be a drag queen.
I am mostly excited for the teams that make it to New Orleans this year, because the locals will know why you're there.
New Orleans knows what football is, what a concept!
Last year in California Chris and I got in an Uber DECKED out in Clemson attire and the Uber driver asked what brought us to town.
Please hold for an actual picture of what we were wearing when we graced the Uberman in California with our presence…
Before I could hold my tongue I blurted out, "WHAT THE HELL DID YOU SAY TO ME?!?!"
Obviously, in the most Anchorman tone possible, when in Rome.
I then started rambling explanations of why we were wearing each item at a rapid pace.
"This grown ass man is wearing orange glasses, SIR!! He looks like Mr Potato head in honor of his team!"
I am wearing gold pants!! I don't wear gold pants usually...wait shit actually I do".
ANYWAY!
It was a disgrace to be somewhere, to spend the time and money to travel across the country and nobody know or give a shit about the National Championship.
We figured out a way to make do.
Peace be with both teams who get to make that journey to New Orleans this year!
They know football and they know how to party! And IF it does pan out to be another timeless matchup of Clemson/Alabama both sides are gonna be so jacked up to be in an environment where people know what an actual football is that we may all implode.
Pairing tiger stripe skirts with comfy t-shirts is my go-to this season.
Midi skirt lengths are popular for fall and I'm taking advantage of that.
Below I've linked all my favorite picks from Fanatics!
Fanatics Gameday Essentials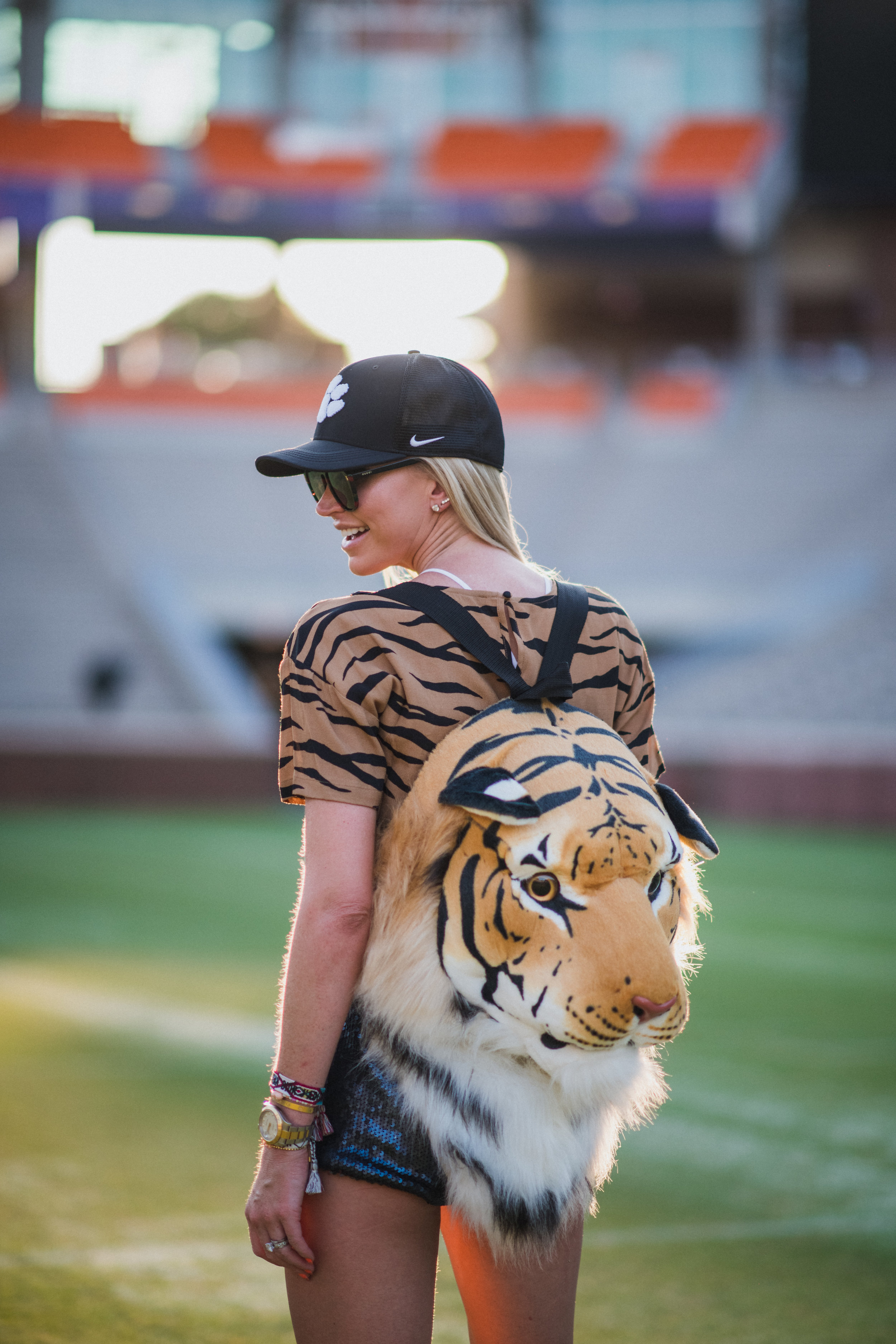 I've only been to New Orleans once and I ended up taking over a parade and accidentally signing up to be an Uber driver.
I was only trying to call for an Uber, but somehow I ended up with a new career.
I had to email them to ask to please be taken off the driver list.
I've been pretty addicted to styling this black Clemson hat.
It doesn't commit me to wearing strictly orange or purple. Since the focus color is black I can incorporate using tiger stripes and then mixing up the texture with sequin track shorts.
Using a pop of black sequins adds just enough gypsy flare.
Am I here to watch football or sell you fake watches out of my tiger head book bag?
Only time will tell.
Also can I just say trying to find a freaking Uber after ANY major event, especially a Natty is like trying to go back in time and find Thanos with the infinity stones.
After the game in California we searched and searched and tried to teleport ourselves or call Captain marvel with a beeper.
We even teamed up with Bama fans to help navigate the path. At one point Chris's phone confirmed a car and we all just started running.
I'm pretty sure Kramer yelled, "WAKANDA FOREVER" and I just kept yelling "I AM GROOT!"
My "Easy Tiger" t-shirt is by Chaser.
I've provided a link below to their website with all their "Easy Tiger" gear, including mens and children!
Their shirts make it a thoughtless process getting dressed on an early gameday.
ALSO, in the picture series above you'll see the sequin tiger patch on my purple jacket. I got the jacket in downtown Clemson and purchased the patch off Etsy for that extra Dolly flare.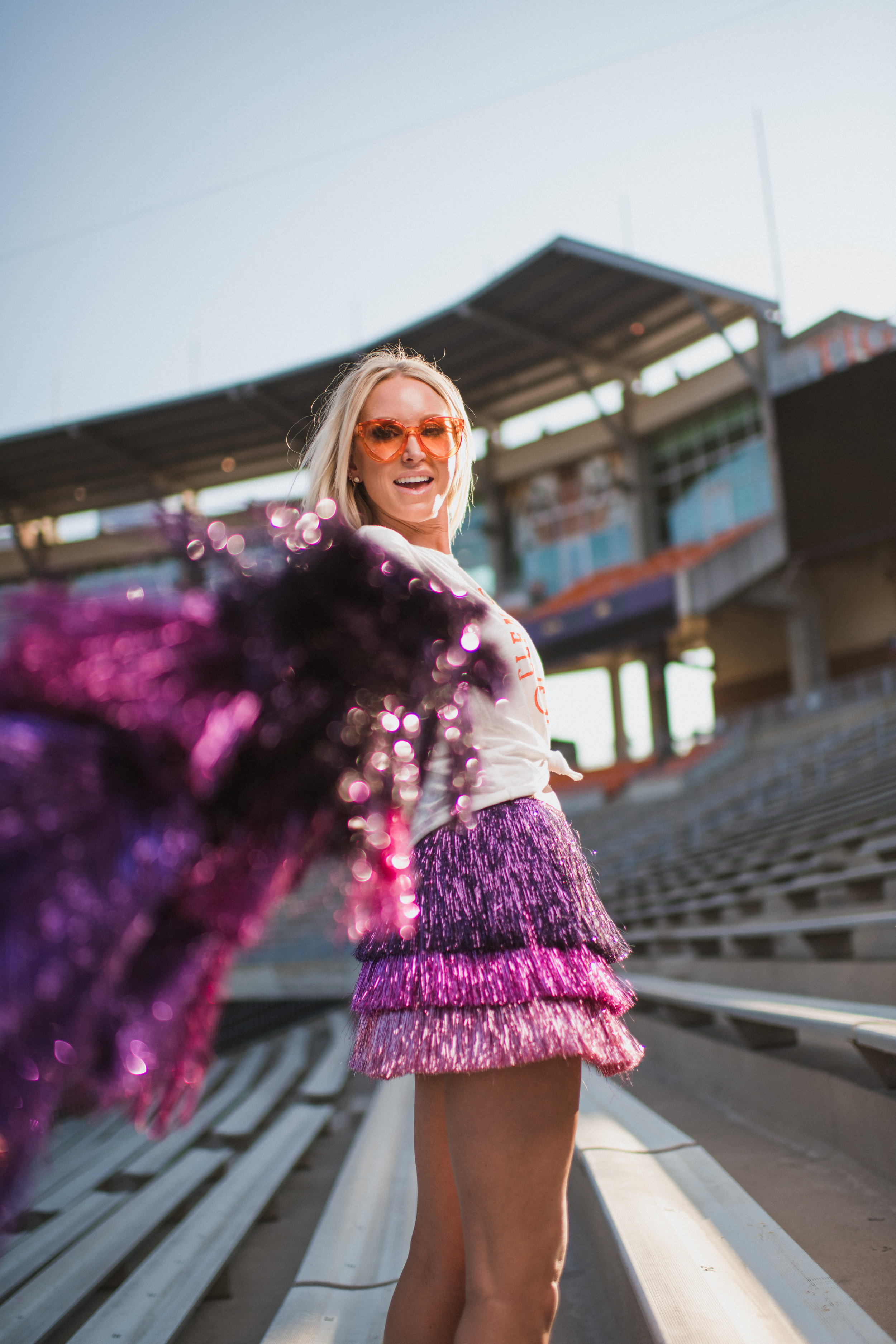 It's about that time to walk these steps for A&M.
I hope you feel inspired to think a little outside your tailgate attire comfort box this football season. I'll be showing up to the tailgate on purpose and possibly in fringe…maybe you will too.
So push your shoulders back with me and walk in that stadium like you own it, because being you ROX!
Until next time.
Lyv